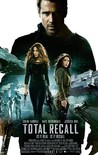 Starring:

Bokeem Woodbine

,

Bryan Cranston

,

Colin Farrell

Summary:

"Total Recall" is an action thriller about reality and memory, inspired anew by the famous short story "We Can Remember It For You Wholesale" by Philip K. Dick. Welcome to Rekall, the company that can turn your dreams into real memories. For a factory worker named Douglas Quaid, even though

"Total Recall" is an action thriller about reality and memory, inspired anew by the famous short story "We Can Remember It For You Wholesale" by Philip K. Dick. Welcome to Rekall, the company that can turn your dreams into real memories. For a factory worker named Douglas Quaid, even though he's got a beautiful wife who he loves, the mind-trip sounds like the perfect vacation from his frustrating life - real memories of life as a super-spy might be just what he needs. But when the procedure goes horribly wrong, Quaid becomes a hunted man. Finding himself on the run from the police – controlled by Chancellor Cohaagen, the leader of the free world – Quaid teams up with a rebel fighter to find the head of the underground resistance and stop Cohaagen. The line between fantasy and reality gets blurred and the fate of his world hangs in the balance as Quaid discovers his true identity, his true love, and his true fate. (Columbia Pictures)

…

Expand
Director:

Len Wiseman

Genre(s):

Action

,

Adventure

,

Sci-Fi

,

Thriller

Rating:

PG-13

Runtime:

118 min
Please enter your birth date to continue:
You are not allowed to view this material at this time.
The richly constructed first hour is so superior to any feat of sci-fi speculation since "Minority Report" that the bland aftertaste of the chase finale is quickly forgotten.

Wiseman's PG-13 remake isn't as funny, or vivid, or splatter-tastic. It contains no mutants, inflating heads, trips to Mars, or freaky little psychic dudes named "Kuato" emerging from people's stomachs. But it does a decent job setting up an unsubtle dystopia.

The outcome is engaging enough, although not entirely satisfying from either a genre or narrative standpoint, lacking both substance and a degree of imagination.

Crazy new gadgets, vigorous action sequences and a thorough production-design makeover aren't enough to keep Total Recall from feeling like a near-total redundancy.

It's a bit of a flavourless CGI-fest, without the character and comedy of the Arnie version, and it never really gets to grips with the idea of "reality" as a slippery, malleable concept.

This premise contains the seeds of an interesting economic and political allegory, but the ambitions of the filmmakers - lie in the direction of maximum noise and minimum sense.

There's something sadly poetic about a movie dealing with disappearing memories that vanishes from your mind while you watch it.
I love this movie. I remember the original very well and the major plot elements of this version didn't vary much from the original. That

I love this movie. I remember the original very well and the major plot elements of this version didn't vary much from the original. That aside, everything else was different and new.. I loved the story, ceaseless action, special effects, and stunts. It's the perfect movie for any adrenalin junkie that will hold your attention from beginning to end.

…

Expand

Good Saturday afternoon movie film. Plenty of action and sci-fi fantasy. Good cast and nicely done change to the storyline from the original..

Good Saturday afternoon movie film. Plenty of action and sci-fi fantasy. Good cast and nicely done change to the storyline from the original.. Yet another film that will get slated by the people who must be covered in dust and cobwebs and daren't open their minds a little to enjoy this film a little.

…

Expand

Much better movie than the original. The action sequences were great, the ideas about the environment were interesting, and the acting was

Much better movie than the original. The action sequences were great, the ideas about the environment were interesting, and the acting was really good. They also got rid of a lot of the retarded aspects of the original like the Mars setting, the cheesy filming style, and the alien/freak plot points which really ruined the film. Instead, they tried to go for some realism while still staying true to the science fiction elements and if watched with a moderate suspension of disbelief then I think most people would really enjoy this movie. Also, Kate Beckinsale is absolutely amazing. This movie is worth watching just for her. The only thing that bugged me was that they still had some plot holes from the original and some of the "mind games", while improved, still didn't resonate as well as they could've.

…

Expand

They try hard to differentiate this film from the original: the setting is different (not mars anymore), the production style -which is very

They try hard to differentiate this film from the original: the setting is different (not mars anymore), the production style -which is very stylish btw- is much greyer and dysotopian and the acting is much more low key. It's not that the film is bad, it just hasn't got the good stuff. Schwarzie's character had much more charisma and his 2 different persona were more clearly separated, in Farrell's case they just seem the same bland dude. Beckinsale plays a good antagonist but nowhere near the **** level that was done so very well by Sharon Stone in the original. The new one has tons of action and destruction but ultimatly lacks the visceral and raw violent feel of the Verhoeven version.

…

Expand

I haven't seen the original, but I wasn't engaged in this at all. Aesthetically pleasing with the cinematography, but no real substance to

I haven't seen the original, but I wasn't engaged in this at all. Aesthetically pleasing with the cinematography, but no real substance to back it up which is a shame.

…

Expand

This review contains spoilers, click expand to view.

So in the end, she had to wait for him to wake up to kill him? Loool worst assassin ever, simply a bad movie, some ok parts but really come on? I think there should be a council so the customers who are paying their hard earned money on cheap movies to get it back!!! Viva the revolution

…

Expand