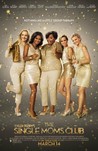 Director:

Tyler Perry

Genre(s):

Drama

,

Comedy

Rating:

PG-13

Runtime:

111 min
Please enter your birth date to continue:
You are not allowed to view this material at this time.
One of the best products to roll off the prolific multihyphenate's Atlanta-based assembly line, largely absent the pandering humor and finger-wagging moralism that have bedeviled many of Perry's earlier (if undeniably popular) efforts.

It's an improvement on some of Perry's other films that strike a heavy-handed moralistic note. And it lacks the silly slapstick humor of his Madea movies.

Even Tyler Perry seems bored and exhausted by his own shtick. To its credit or detriment, Single Moms Club cannot muster up the energy to be as insulting and offensive as Perry's previous two films.

Perry has made better movies, and perhaps worse ones. But never one as dull as this.

The only things left out of The Single Moms Club are genuine humor and emotion.
I think the single moms club movie was a very inspirational movie for single parents, because it does show
the different struggles mothersI think the single moms club movie was a very inspirational movie for single parents, because it does show
the different struggles mothers have and different situations, and that will connect with a lot of the single mothers out there.
That's why i love watching Tyler Perry's movies because in each movie/play theirs a connection to someones life experience or something their going through at that very moment

…

Expand

Come on, this wasn't the best movie of the year, but it wasn't bad enough to get a 0 from so many people. Not only was it funny, but Tyler

Come on, this wasn't the best movie of the year, but it wasn't bad enough to get a 0 from so many people. Not only was it funny, but Tyler Perry made a terrific story line that was realistic and constant throughout the movie.

…

Expand

Tyler Perry's The Single Moms Club es un película que aunque no resalta de una forma atrapante, si logra manipular bien su atmósfera con

Tyler Perry's The Single Moms Club es un película que aunque no resalta de una forma atrapante, si logra manipular bien su atmósfera con buenas actuaciones, algunos toques de risa y su buen contagio.

Esta película es un largometraje que sirve para pasar el rato riéndote en algunas partes con una historia sencilla y simple, además, las actuaciones son respetables ya que estas mujeres (o madres solteras) logran darle un buen tono a este film y así también dar un buen aspecto carismático., por lo tanto, el trabajo del reparto principal son un punto fuerte en esta película., aunque, lamentablemente, este film no desarrolla de una forma altamente atractiva su historia, pero sí se las ingenia para ser elocuente. Por lo tanto, esta película resulta ser sencilla, idealista y algunas veces carismática a pesar de que no sea muy compleja.

…

Expand

Tyler Perry's Single Moms Club is not that bad . it is funny and the one and only mother of all comedies for once i saw a good Tyler Perry

Tyler Perry's Single Moms Club is not that bad . it is funny and the one and only mother of all comedies for once i saw a good Tyler Perry film . Grade A+

…

Expand

Tyler Perry sucks and he needs to be freaking destroyed. Oprah too if she continues to support this guy. Please let this be the beginning of

Tyler Perry sucks and he needs to be freaking destroyed. Oprah too if she continues to support this guy. Please let this be the beginning of the end. PLEASE.

…

Expand

Tyler Perry is creepy and this movie is a kick to "balls" followed by some one jumping up and down on the "balls" of all women every where.

Tyler Perry is creepy and this movie is a kick to "balls" followed by some one jumping up and down on the "balls" of all women every where.
Do not see this.

…

Expand

Tyler Perry's The Single Moms Club is a sitcom masquerading as a feature film. And given Perry's snowballing small-screen presence, an

Tyler Perry's The Single Moms Club is a sitcom masquerading as a feature film. And given Perry's snowballing small-screen presence, an eventual TV show of it would be no surprise.

…

Expand