Network:

FOX

Series Premiere Date:

Sep 18, 1989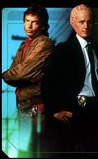 Starring:

Lauren Woodland

,

Terri Treas

,

Gary Graham

Summary:

"That was the scene in California's Mojave Desert five years ago - our historic first view of the Newcomers' ship. Theirs was a slave ship, carrying a quarter million beings bred to adapt and labour in any environment. But they'd washed ashore on Earth, with no way to get back to where they

"That was the scene in California's Mojave Desert five years ago - our historic first view of the Newcomers' ship. Theirs was a slave ship, carrying a quarter million beings bred to adapt and labour in any environment. But they'd washed ashore on Earth, with no way to get back to where they came from. And in the last five years, the Newcomers have become the latest addition to the population of Los Angeles... "

…

Expand

Genre(s):

Drama

,

Science Fiction
"Alien Nation" as a series has been a remarkable achievement in the dullest fall season in history. It is both entertaining, socially responsible, and significant. [7 May 1990]

Although flawed in its heavyhanded and unrelenting use of prejudice against alien beings as a metaphor for prejudice against blacks, Alien Nation packs a punch and could be the cult action show of the year - if it survives "Monday Night Football." [18 Sept 1989]

Issues of bias and prejudice are moved to center stage, rather heavyhandedly. There are references, direct and veiled, to blacks and civil-rights struggles, the Holocaust, and AIDS hysteria. But Gary Graham and Eric Pierpoint are effective as, respectively, a younger, hipper Matthew and a mellower George. For television, Fox's Alien Nation is different, adventurous and very much worth monitoring.

It almost torpedoes itself by being a bore and taking its futuristic sociology too doggone seriously. [18 Sept 1989, p.3D]

Shadowing most every encounter and incident are examples of the same sort of bigotry and racism that many other peoples have faced and fought as they dragged themselves into this society. Racist references - the aliens are called slags and spongeheads - are unfortunate and but the most serious of this series' many problems. [18 Sept 1989]

A good idea has been largely bollixed through crummy execution. [18 Sep 1989]

Alien Nation is covered with ooze. For one thing, it's about as subtle as an AK-47. For another, its aliens lack interest because -- except for looking a little different and humming like tuning forks when engaged in sexual foreplay -- they're almost human clones.
Truly this A classic example of A show way too ahead of it's time.The movie based on it's name starring James Caan was overlooked itself as

Truly this A classic example of A show way too ahead of it's time.The movie based on it's name starring James Caan was overlooked itself as many have no idea that it ever existed.Alien Nation is even more relevant now and certainly more appreciated.The show examines what it would be like if A genetically modified,enslaved group of Aliens called the Tetenese.Their slave ship landed in the Mojave Desert and quarantined before given U.S. Citizenship.What happens in their struggles of fitting in and finding their place in society results in Racism,bigotry and overall for most of them not being wanted by Human society.Also,their unique strength and intelligence attracts the wrong people whom simply want to use them for nefarious reasons.However,all are not so innocent as many from the slave ship were Slavers themselves called the Overseeers or Klag'sa'sugh in Tentenese.They wish to unite with their superiors to not only enslave the Tentens on Earth but all of Earth's population itself.

The show mainly takes place in Los Angeles and the two main character are the grizzled Detective Matt Skies (Meaning excrement and cranium in Tentenese) who's partner was murdered by A Tetenese hit squad ran by A Tetenese Mobster.The other character is the newly made Tetenese Detective George Francisco.Suffice to say,these two do not get along and Matt specifically has nothing but contempt for George and basically all of the Tetenese calling them derogatory terms such as Spounge heads and Slags.

However,during the Pilot Episode He slowly learns that no matter what the Biological differences are,the Tetenese are just people just like any Human and never asked to be slaves in the first place.Throughout the series and subsequent Television Movies,Matt and George learn and experience both the good and bad of both races,ultimately respecting both of their races and each other.

What really helps Matt in particular are George's Family-His Wife Susan,His Daughter Emily,His Son Buck and His Uncle Moodri.George's Son however has no desire fitting into Human society and regularly lashes out with A combination of Teen angst and hatred of anything Human as oppose to his Sister Emily-A young Girl who wants nothing more than to fit in.Susan desperately tries to adapt and raise her kids to embrace Earth and their society and George trying to provide for His family and set An example for His children.

The second dynamic for Matt is His next door apartment neighbor Catherine Frankel.She is A Tetenese Woman who has trained to be A Doctor.Through time there is A very obvious attraction and that grows steadily through time and beyond through the Television Movies.

The other characters mainly are mainly focused on the Police Precinct such as Captain Byan Grazer,the Janitor Albert Einstein and Officer Beatrice Zepeda.These character offer surprising humor and when it calls for it serious dramatic interludes.They all fit right into the show and overall are well casted for their particular roles.

Overall,Alien Nation is A Television Classic that was widely overlooked and under appreciated for it's time as the indication of future Television Movies would prove.To be honest,people at that time really missed A great opportunity to embrace something way ahead of their time and the show could of been one of the most successful Science Fiction series of all time.I am glad however there are people like myself who still remembers and appreciates the series for all of it's worth and I encourage people to rediscover it for themselves and relive one of the most imaginative,unique and exciting Science Fiction experiences of all time.

…

Expand

One of the best cultural commentaries of the 80's, a spin-off of the equally great movie of the same name, this had great characters and good

One of the best cultural commentaries of the 80's, a spin-off of the equally great movie of the same name, this had great characters and good episodes that used the science-fiction to comment on various social hot topics of the period that should gone past season 1.

…

Expand