Network:

FOX

Series Premiere Date:

Jun 11, 2002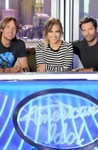 Starring:

Harry Connick Jr.

,

Jennifer Lopez

,

Ryan Seacrest

Summary:

Season 12 judge Keith Urban is joined by new judge Harry Connick, Jr. as well as the return of Jennifer Lopez to the panel and Randy Jackson as in-house mentor.

Genre(s):

Reality

,

Music
Season 13 premiere date:

Jan 15, 2014

Episode Length:

60
Please enter your birth date to continue:
You are not allowed to view this material at this time.
Connick, who was among Idol's most engaging mentors in past seasons, is even more adept in this new role, and the chemistry on the current panel is at least on par with the more celebrated Voice cast. As Idol wraps its auditions this week before heading to Hollywood, I find myself looking more forward to the actual competition than I have in years.

Viewers will sigh with relief to see this trio actually get along with one another. They listen, share in the laughs and coolly talk through decisions--it makes for a captivating panel that's fun to watch.

Naturally, Idol is still heavy on crying mothers, the thrill of victory and agony of defeat, Ryan Seacrest saying things like "This ... is your show," and an on-air script resembling a heart-disease public-service announcement that reads, "Life Can Change in a Heartbeat." All told, though, the show feels brighter and breezier, and initially avoids some of the heavier-handed pomposity "X Factor" exhibits during these rounds.

The freak-show rounds, a staple of Idol's early weeks, have been reduced to a couple of montages and the random weirdo.... Of the three judges, Connick is the harshest, a Simon Cowell without the snark or the malice.
American Idol is nowhere near the success that The Voice is having now, and there's a chance that it may never get back to the top again.

American Idol is nowhere near the success that The Voice is having now, and there's a chance that it may never get back to the top again. However, declining ratings don't have to serve as their death sentence.

…

Expand