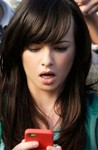 Starring:

Nikki DeLoach, Beau Mirchoff, Desi Lydic

Summary:

Jenna Hamilton is a 15-year-old girl who returns to school after finding herself the center of attention because of an embarrassing accident that left her with a broken arm, which is misconstrued as something more serious.

Genre(s):

Comedy
Creator:

Lauren Iungerich

Show Type:

In Season

Season 1 premiere date:

Jul 19, 2011

Episode Length:

30

Air Time:

10:00 PM
She navigates the sharky waters of high school, friends, mean cheerleaders, and cute boys with a snarky voice-over that makes her--and Awkward.--easy to fall in love with.

Gosh, that's a lot of derivative teen-movie influences for a half-hour show. Yet the swift pacing and simplicity of Awkward remind us that awkwardness can still be freshly painful and funny material, so long as there are still teenagers and high schools.

A series about a high-school girl that's neither maudlin nor alarming nor conceived with intent to preach or to shock. It's further distinguished by its focus on entirely recognizable teenage pains, as endured by an entirely recognizable teenager, Jenna. Its other distinction: strong echoes of an older kind of storytelling, the sort whose characters grow and acquire depth.

Aside from the gratuitous sexual stuff, Awkward is a really good, funny, fun show.

The life of an everyday American high school girl has rarely been rendered with such sly and funny precision as it is in MTV's aptly named Awkward.

Jenna being actually pretty adorable. And so is Awkward, which, like "Glee," deals gently and semicomically with issues of sexuality and bullying but never really draws blood.

While the premise is refreshingly gimmick-free compared with "RJ Berger" or "Teen Wolf," the situations aren't compelling enough to make this much more than a latter-day "Doogie Howser, M.D." with a gender switch.
When i seen the first episode i didn't think much of it but as the series continued i loved it more and more and found my self looking forward

every week for the next episode.

Love love love this show! It's in the top 5 favorite shows!! Hope there is a season 2 :)

…

Expand

Love this show!! Was not expecting too much from MTV BUT was pleasantly surprised. This is the perfect show to blob out and watch.

Pure genius. Pilots are hard, but Lauren (the creator) nailed it! Probably one of the best acted, and well written pilots in the past 10

years. Seriously. The production value is a little shoddy, but it is MTV not NBC.

…

Expand

I generally blame MTV, VH1 and E channel for the destruction of Western Civilization but this is the smartest, funniest show to come along

since Daria. It still doesn't make up for the Real World, Flavor of Love and the truckloads of other crap they've polluted the airwaves with.

…

Expand

Didn't expect much from an MTV Show, but the opening episodes have definitely been a pleasant surprise. The actors in this are easier to

relate to than other teenage focused shows like 90210 or the like. Hopefully this show can continue to stay fresh.

…

Expand

I'm clearly not the target audience. I miss by a few decades. Still, the plot was slow and really without much imagination. The dialogue

was way too predicatable.

…

Expand
Summer will bring some of TV's best shows (including "Breaking Bad" and "Louie," and--possibly--new shows like "The Newsroom"). Inside, we look at the 20 most noteworthy series, specials, and miniseries coming this summer. You'll also find a full calendar of premiere dates from now through August.