Network:

CBS

Series Premiere Date:

Apr 24, 2014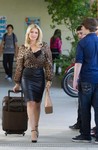 Starring:

David Alan Grier

,

Sara Gilbert

,

Kristin Davis

Summary:

Meredith Davis (Ari Graynor) poses as a teacher at her friend's step-daughter's school after convincing Principal Carl Gaines (David Alan Grier), but not everyone is so easily fooled in this comedy based on the 2011 film of the same name.

Genre(s):

Comedy
Season 1 premiere date:

Apr 24, 2014

Episode Length:

30
The team behind Bad Teacher has successfully reconfigured the raunchy comedy into a heart warming sitcom starring Ari Graynor that is still bad in all the right ways. [28 Apr 2014]

All in all, it's a pleasant, sunny and well-played ephemeral farce; Gilbert, Grier, Hansen and Davis are all good to see again, and Graynor inhabits her character with verve and increasing grace.

Meredith is a gold-digger, but when push comes to shove she chooses her students' welfare over her ambition to become someone's new wife. That is a pat resolution in a movie but not enough to sustain a series.

The show has its funny moments, and the cast is pretty good, especially the younger actors.

It's not about a "bad" teacher, just a slightly irreverent one.

Bad Teacher relies on a one-joke premise that's funny enough in the premiere but seems like it will wear poorly over time.

Leached of the original's tart sense of humor, the series quickly settles into lowest-common-denominator boilerplate, an unintended critique of the declining sitcom formula.
Really awesome show!! Kept me laughing all the episode. In my opinion it is one of the best comedy series of the year. Can't wait to see more of it!!!

I wish they didn't cancel this show so early. I throught it was very good and very funny. I am very sad it is gone already. I hope their is a

I wish they didn't cancel this show so early. I throught it was very good and very funny. I am very sad it is gone already. I hope their is a chance they will bring it back on air.

…

Expand

This review contains spoilers

, click expand to view

. I really enjoyed this TV show!!!, it is so funny!, and at the end of each episode, always gives you a moral of a fable.

Teach you that sometimes it is better be more flexible than a rigid person!, it is funny and fresh, I am expecting a second season!

…

Expand

The main difference between this and the movie version is that the movie has actual jokes and is actually funny. This sucked royally, and was

The main difference between this and the movie version is that the movie has actual jokes and is actually funny. This sucked royally, and was a big waste of time

…

Expand

" the show ( bad teacher ) is sexy and so as hilary winston ". from producer Cameron Diaz and creator and star hilary winston made a show

" the show ( bad teacher ) is sexy and so as hilary winston ". from producer Cameron Diaz and creator and star hilary winston made a show about a greetty gold digger who gets a job as a teacher just to find men . the show has bad topics . Making a show that has nothing to do with Diaz's classic { bad teacher } . all its about is a greetty woman looking for men . Grade D

…

Expand

Wretched acting, no plot, and not funny. Might be funny for the 9-year-old boy crowd but the juvenile humor is below even that lofty

Wretched acting, no plot, and not funny. Might be funny for the 9-year-old boy crowd but the juvenile humor is below even that lofty audience. Not worth the electrons needed to keep the screen lit.

…

Expand

One knows when a series is going to be bad when the trailers are terrible. The premise is not a bad one but it would much better if it was

One knows when a series is going to be bad when the trailers are terrible. The premise is not a bad one but it would much better if it was kept a "secret". The teacher could have been "seducing" male teachers for two reasons. One to help her actually teach her classes because she was not really qualified and the other for the male connection. The principal would be funnier if he was suspicious but too incompetent to actually get proof of how "bad" she was.

…

Expand