Network:

ABC

Series Premiere Date:

Apr 24, 2014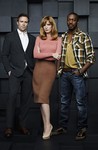 Summary:

Renowned neurologist Dr. Catherine Black (Kelly Reilly) hides her bipolar diagnosis from everyone except her psychiatrist, Dr. Helen Hartramph (Vanessa Redgrave) as she juggles her attraction to a chef named Will Van Renseller (David Ajala) and her coworker, Dr. Ian Bickman (Ditch Davey).

Genre(s):

Drama
Creator:

Amy Holden Jones

Season 1 premiere date:

Apr 24, 2014

Episode Length:

60
Black Box creates compelling people while smartly pondering identity, relationships, connection--it doesn't need the amped-up atmosphere.

Ms. Reilly, who is otherwise appealing, brings an all-too-steady intensity to the role of Catherine--a kind that makes it hard to tell, on occasion, whether the doctor is on her medication or off it. That aside, and despite some madly improbable adventures in the hospital's brain-surgery unit, creator Amy Holden Jones and team have delivered a Black Box whose content is both smart and seductive.

We not only see how those stories [of her patients] play out, but how Black's story does, too. We see how her ailment affects her relationships with her boyfriend (David Ajala) and her family, and what little control she has over her life.

First, Catherine at times feels stylized, like a character from a '30s movie. It's alluring and distracting. Second, none of the other characters pops out enough so we're immediately eager to find out what will happen next.

Casting Vanessa Redgrave as Dr. Black's therapist is a sign of how seriously Black Box takes her condition--and itself--but even Redgrave can't raise this above the level of a not very good medical procedural.

Put it all together, and Black Box simply isn't worth seeking out.

This is, hands down, the worst series of the year, with the most annoying lead character in a season with many annoying lead characters.
Black Box is the most compelling, interesting new show this season. As another reviewer has stated, unless you have known someone whose

Black Box is the most compelling, interesting new show this season. As another reviewer has stated, unless you have known someone whose behavior can turn so dramatically when meds are missed, the lead character's behavioral changes may seem absurd. I find the various plot lines to be engaging, NOT confusing. You do have to watch all episodes in sequence, and it is very helpful to be able to re-play to fully understand all the interplay. I sincerely hope the show will be renewed for future seasons.

…

Collapse

I am 16 and can relate to this show. People who don't know what it's like to live with a mental illness may feel it is all a joke or overly

I am 16 and can relate to this show. People who don't know what it's like to live with a mental illness may feel it is all a joke or overly exaggerated, but that is what I think this show could change. Black Box helps people with a mental illness see they are not alone, it shows mental illness is not taboo. Some people may not care if Black Box continues, but for me I hope it does, not just because it makes me feel less alone, but because over time it might change the stereotypes surrounding mental illness. To me Black Box is not just a show, but a step to a better understanding.

…

Expand

This is a wonderful medical drama with an all-too-human face: that of Dr. Black, played by Kelly Reilly. It's a brave choice to not only

This is a wonderful medical drama with an all-too-human face: that of Dr. Black, played by Kelly Reilly. It's a brave choice to not only feature a bipolar sufferer as your protagonist but also to portay her honestly, as a deeply flawed human being who makes bad choices even though she's highly intelligent. Black Box is very like "House" in that way; we may lose patience with these protagonists at times, just as we do with disturbed friends or relatives, and some of the things Dr. Black does may be painful to watch. But she's a complex, sympathetic character struggling to do the right thing despite her illness.

The most recent episode (with the shooter on the roof) was the best one yet, and the series keeps getting better. I hope it's renewed.

…

Expand

I can see where a viewer who hasn't lived with, or been close to, a mentally ill person wouldn't "get" this show. Nevertheless, with the

I can see where a viewer who hasn't lived with, or been close to, a mentally ill person wouldn't "get" this show. Nevertheless, with the population of mentally ill persons skyrocketing daily, everyone should watch this show and learn. When I saw the premiere, I was dumbfounded to see someone act EXACTLY like my loved one when meds are missed. This program has helped me to look at mental health in a different and less condemning way because I'm able to see it portrayed by a character that I'm not emotionally attached to. Can't say "thank you" enough!

…

Expand

Very solid, somewhat borderline. Yet at the same time, compelling and intriguing enough to bring you back for the next 12 episodes. The show

Very solid, somewhat borderline. Yet at the same time, compelling and intriguing enough to bring you back for the next 12 episodes. The show can be VERY melodramatic at times--yet the tone, mood, and aspects of the show row along nicely to make this psych medical drama worth-watching--but mostly because of Vanessa Redgrave's stellar performance and the suspense that Kelly Reilly brings to Dr. Catherine Black.

…

Expand

It's all kinda messy... Too much is going on too fast.

I don't feel the characters. I didn't connect with any of them, and I don't see itIt's all kinda messy... Too much is going on too fast.

I don't feel the characters. I didn't connect with any of them, and I don't see it happening. :/ Like, you see all the truble and pain but you just can't feel it. There's something missing there.

I just don't buy it.

…

Expand

Such a great principle. I think there should be more media about mental health issues, and what a great fun it should be! For god sakes, it's

Such a great principle. I think there should be more media about mental health issues, and what a great fun it should be! For god sakes, it's like a mecca of plot! However, as much as I like this principle, and the script is even ok, the actress is so awful that it makes the show unwatchable. I don't want to sound awful, but I don't know how she could work as a character actor, let a lead. Watching the show is kind of like an exercise in hate, because of how bad Kelly Reilly's acting is. Sweetie, you might need to go back to being a waitress... hopefully you are less snarky for a tip.

…

Expand