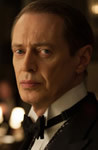 Starring:

Steve Buscemi

,

Michael Kenneth Williams

,

Kelly Macdonald

Summary:

Season four picks up in 1924 and Nucky has new problems in the form of Valentin Narcisse (Jeffrey Wright) and FBI Agent Loren Knox (Brian Geraghty). Patricia Arquette joins the cast as a speakeasy owner named Sally Wheet.

Genre(s):

Drama
Creator:

Terence Winter

Season 4 premiere date:

Sep 8, 2013

Episode Length:

60
Please enter your birth date to watch this video:
You are not allowed to view this material at this time.
Based on most of the first five episodes sent out for review, Boardwalk Empire easily establishes its claim as one of the three or four best dramas on TV.

Watching Nucky's frenemies thrive like poison toadstools ringing a tree--that's a grim, gripping spectacle in its own right. [9 Sep 2013, p.42]

The new season relies heavily on the show's rich mood and atmosphere, inasmuch as series creator Terence Winter and his crew appear content to ease back into the proceedings while hitting the reset button.

Nucky has long been the king in this regard, but for once his throne seems like it's in real jeopardy, and it's a joy to watch him squirm.

There's a lot of slow exposition here, requiring patience for new characters (like Ron Livingston as wealthy playboy Roy Phillips). But the body count builds by the time the credits roll, so those quiet rooms won't stay quiet for long. [6 Sep 2013, p.71]

Boardwalk Empire is as good-looking and well-acted as ever, but it still has bullet holes where its head and heart should be.
Boardwalk Empire is a brilliant show and each season is better than the last. The cinematography is stunning, as well as the sets,costumes and

Boardwalk Empire is a brilliant show and each season is better than the last. The cinematography is stunning, as well as the sets,costumes and sfx. The acting is top rate, the writing is subtle and nuanced, and the story is unpredictable and dark. This is another winner from HBO, and an amazing TV show overall. The first episode of Season 4 was amazing, and i am sure the rest of the season will be too.The year is 1924, and crime,corruption, and bloodshed has no end in sight in this moody drama.

…

Expand

When I saw this tv show it blew my mind because the rest of them at the are garbage. My best advice to you is to buckle up and enjoy it while it last.

This season Boardwalk Empire are more compelling than ever, great characters, great plot and an hell of a incredible season finale. Season

This season Boardwalk Empire are more compelling than ever, great characters, great plot and an hell of a incredible season finale. Season four is not perfect like season three, but still strong and spectacular.

…

Expand

Cómo la web me pide un mínimo de 150 caracteres, y necesito hacer el review para poder tenerla archivada en mi perfil, pues suelto este rollo

Cómo la web me pide un mínimo de 150 caracteres, y necesito hacer el review para poder tenerla archivada en mi perfil, pues suelto este rollo y mi votación es de 9. Un saludo.

…

Expand

Fans of Boardwalk Empire can expect more of the same: intriguing and consistently well acted characters, emotionally complex storylines,

Fans of Boardwalk Empire can expect more of the same: intriguing and consistently well acted characters, emotionally complex storylines, lavish yet thoroughly authentic sets and a pitch perfect soundtrack. And yet, unlike most other shows where higher expectations force diminishing emotional returns, Boardwalk Empire digs in and ploughs greater emotional depths.
The entire cast are as always top notch, but the slow evolution of all the surviving major characters seems to be reaching a zenith. And if a major character should fall by the wayside you can rest assured that, no matter how brief their story or how unexpected their death may be, the impact will be felt and their loss justified.

…

Expand

Es la temporada que ha ganado en complejidad argumental y emocional. Es cierto que ha perdido algo de ese Boom que lo caracteriza, pero aun

Es la temporada que ha ganado en complejidad argumental y emocional. Es cierto que ha perdido algo de ese Boom que lo caracteriza, pero aun asi esta temporada es mejor que la tercera temporada, una trama mejor elaborada y personajes como Eli, Chalkie y en especial el carismatico Richard toman mas protagonismo en esta temporada y lo hacen tan genial.

…

Expand

I love this show too much to let it go, but come on Boardwalk!! The show has gotten so slow and some episodes have left me depressed about how

I love this show too much to let it go, but come on Boardwalk!! The show has gotten so slow and some episodes have left me depressed about how well, bad it was. Boardwalk doesn't rub off on me like it used to. All of the scenes take place in very few locations, no scenes on the Boardwalk this season, and very slow character development with an overall impression that not much is happening. I miss the extravagant scenes at the ritz and the beach on the boardwalk. This show was/is too good to let it go, please writers make me feel like I did in season 1 & 2. Please!

…

Collapse