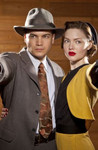 Summary:

The two-part miniseries about the infamous 1930s outlaws Bonnie (Holliday Grainger) and Clyde (Emile Hirsch) airs simultaneously on A&E, History and Lifetime.

Genre(s):

Drama

,

Movie/Mini-Series
Show Type:

Mini-Series

Season 1 premiere date:

Dec 8, 2013

Air Time:

09:00 PM
It understands that its first job is to make us believe in Bonnie and Clyde and commit to their story. And that it does, perhaps not brilliantly, but well.

This Bonnie & Clyde, taken on its own terms, is a perfectly entertaining gangster picture, not to mention an interesting experiment in its simultaneous propagation and subversion of feminist doctrine.

Bonnie & Clyde really is just another biopic with superior production values, a few good performances and a pair of protagonists who deserve no sympathy, and receive none here.

The miniseries itself never quite reaches dramatic liftoff. Could be the know-how-it-ends curse of biopics at work. Or perhaps it's because it is so difficult to spare time and emotion for a couple of punks.

Neither [Hirsch and Granger] offer any insight into what drove the couple, what they actually hoped to achieve, and what kept them going when it became clear that things were not going to end well. And History might have a little soul-searching to do; dramatic license should not mean Make a Huge Number of Important Plot Points Up.

Holliday Grainger and Emile Hirsch are pretty great as Bonnie and Clyde, despite a just-servicable script to explain how Clyde won Bonnie's anxiety-ridden, artistic heart.

This miniseries is terrible, as close to a complete waste of time as I've encountered in my two years of writing for this publication.
Dont understand all the negative reviews this miniseries was interesting, smart, and fun to watch. The story about Bonnie and Clyde was told

Dont understand all the negative reviews this miniseries was interesting, smart, and fun to watch. The story about Bonnie and Clyde was told well, even the origins before they met and how their relationship evolved. i enoyed the 2nd part more than the first as it detailed their outlaw lifestyle and showed how they were going down a path which they couldn't return from. the show is very true to the time period of the 1930s and i loved the transition from the show from black to white in certain scenes. the acting and and actors were also very good, looking and sounding the part. the only negative points i have to make is that it starts off pretty slow and doesn't show many of the heists go down (they get explained via newspaper articles and quick flashes of gunfights). but overall i really enjoyed it as i love outlaw and mafia type shows. Bonnie and Clyde is a worthwhile, fun, entertaining drama that is like a string of dynamite.... it starts off slow but ends with a bang 9/10

…

Expand

Tough story but they stay true to the history Bonnie and Clyde were terrible and brutal people with weird personal issues. This ain't

Tough story but they stay true to the history Bonnie and Clyde were terrible and brutal people with weird personal issues. This ain't Shakespeare but if your are interested in the 1930s gangsters and don't believe the Hollywood hype of the time we'll it's worth your time.

…

Collapse