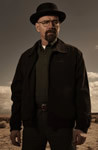 Creator:

Vince Gilligan

Season 4 premiere date:

Jul 17, 2011

Episode Length:

50
Please enter your birth date to watch this video:
You are not allowed to view this material at this time.
They know how great the show looks, they know how much their actors can give them, and they know just how much they can get away with.

Either appropriately or ironically for a show about meth cookers, Bad is simply one of TV's great addictions.

The visual style pours as much emotional juice into the boiling, moody brew that Gilligan cooks up as his actors' searing performances do.

Breaking Bad is unquestionably one of the greatest dramas in TV history. What it should be rewarded and applauded for is the wanton willingness to throw the concomitant success of all that away in the service of the story.

None of these twists are for the faint of heart, which is why Breaking Bad is a smart, thought-provoking TV show that elevates the artistic achievements of the medium.

This is one of the rarest finds on television: a show where cast and character are so perfectly matched by a creator who understands exactly what journey he wants take his audience on.

Like "The Sopranos," Breaking Bad finds nuance and drama within this compromised world, and in the process suggests intriguing and sometimes unsettling parallels to the world in which the rest of us live.
This review contains spoilers, click expand to view.

Probably the best season of television I have ever seen!! It may even beat all movies I've seen too. Walt keeps getting further and further out there. The old man's face is priceless in the final scene between him and Gus. Bing, Bing Bing!! Love It!

…

Expand

One of the best shows ever and this season zoomed by too quickly and thats only because it's too good. The ending is amazing and just for that

One of the best shows ever and this season zoomed by too quickly and thats only because it's too good. The ending is amazing and just for that I consider this to be the actual conclusion. Though I will watch season 5, I can't see how it will get better.

…

Expand

This season was mind blowing. It's slow at the beginning, but which season isn't? The ending is so amazing, but somewhat predictable. But

This season was mind blowing. It's slow at the beginning, but which season isn't? The ending is so amazing, but somewhat predictable. But that's ok! For once, you get what you expect! Amazing season, amazing show and amazing televison.

…

Expand

It's even better this season. How does it do that?! So many suspenseful moments with lots of tension that builds every episode. The twists

It's even better this season. How does it do that?! So many suspenseful moments with lots of tension that builds every episode. The twists were also well planned out. Almost done with the show! So amazing!

…

Expand

this show is just brilliant. everything is looking realistic, writers doing a helluva job and the acting is fabulous. it is probably for me

this show is just brilliant. everything is looking realistic, writers doing a helluva job and the acting is fabulous. it is probably for me gusto, the best contemporary show on the planet. it's sad tho that the show has to end after the 5th season.

…

Expand

The acting is better than ever the scene at the end of Crawl Space(the tenth episode) was Cranstons best performance yet... he got robbed at

The acting is better than ever the scene at the end of Crawl Space(the tenth episode) was Cranstons best performance yet... he got robbed at the Emmys and Golden Globes

…

Expand

I don't get the love for this show. Yeah, it's well made and well acted, but everything about it is forced and not really edge-of-seat

I don't get the love for this show. Yeah, it's well made and well acted, but everything about it is forced and not really edge-of-seat dramatic for me.

…

Expand