Network:

BBC America

Series Premiere Date:

Oct 16, 2013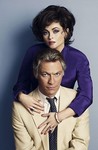 Summary:

Richard Burton (Dominic West) and Elizabeth Taylor (Helena Bonham Carter) are reunited for the 1983 Broadway production of Noel Coward's Private Lives in this BBC America/BBC TV movie.

Genre(s):

Drama

,

Movie/Mini-Series
Show Type:

TV Movie

Season 1 premiere date:

Oct 16, 2013
Excellent actors playing excellent actors--and largely succeeding.

It's a film that asks a lot from West and Bonham Carter, who deliver time and again in roles that could have eaten them alive. Instead we feast.

While no one will mistake Helena Bonham Carter for a twin of the legendary violet-eyed actress, she's more than convincing alongside "The Wire's" Dominic West, who brings a troubled Richard Burton to life.

Burton and Taylor is intelligently winnowed down to a moment in time, firmly planting itself in the last days of disco.

It is less a portrait of two combustible stars, played with empathy and breathtaking control by Dominic West and Helena Bonham Carter, as it is a surprisingly thoughtful excavation of a love that is both undeniable and untenable.

Burton and Taylor is a wry, bittersweet take on a celebrated Hollywood romance. [21 Oct 2013, p.48]

Burton and Taylor confines itself to the nine months of the tour, and while that's a wise decision, it does mean we only get allusions to other aspects of their relationship.
Absolutely loved it! What great performances by both actors. It was compelling from beginning to end. The sort of movie you could watch

Absolutely loved it! What great performances by both actors. It was compelling from beginning to end. The sort of movie you could watch more than once.

…

Expand

I found this under whelming. It could have had a much more explosive story. The story we know was an exciting forbidden love affair, one I am

I found this under whelming. It could have had a much more explosive story. The story we know was an exciting forbidden love affair, one I am sure a good writer can make into a blockbuster.

…

Collapse