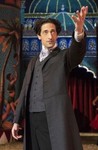 Season 1 premiere date:

Sep 1, 2014

Episode Length:

120
Many of his tricks here are explained, and the means of execution may only increase your appreciation for his genius. Less convincing is the miniseries' speculation that the British intelligence agency MI-5 recruited him to act as a spy in the run-up to World War I.

Houdini takes a big bite, and its journey is often fun and fantastical, but its goofy sensibilities would have benefited from a sturdier structure, and what it wants its audience to take away from its subject's life story is unclear. That said, the miniseries nails the most important thing: spectacle.

The production, and Brody, work hard to elevate Houdini's routines to metaphor.

Brody's performance is borderline capable within the constraints of an at best mediocre combination of writing and story construction. But Harry Houdini's incredible story still awaits a master re-telling. And this one doesn't even come close.

Adrien Brody, was recruited for the title role, and he's a treat to watch. The script, though, is less than he deserved.

This is dour, grim and labors to get through a second act that clocks in a half-hour shorter than part one.
Well this is a weird one. The writing is generally awful. Certainly some of the most stilted dialog heard on TV. The acting is strange.

Well this is a weird one. The writing is generally awful. Certainly some of the most stilted dialog heard on TV. The acting is strange. Even Adrian Brody, whom we know is a more-than-capable actor, tends to act like he is appearing in a comic strip. I think that that is my overall reaction to the show. It's actually interesting. My wife and I will watch it to the end (first half oily seen so far). BUT, it is essentially a comic strip. Is it planned to be that way. I don't see why it should be so. Is it an accident.The writing is so bad that maybe the only thing missing is the close-captioning appearing in balloons over the characters' heads.

…

Expand

Oscar winner Adrien Brody does his best with this dreary look at who and what motivated illusionist Harry Houdini, but that isn't enough to

Oscar winner Adrien Brody does his best with this dreary look at who and what motivated illusionist Harry Houdini, but that isn't enough to propel the mini serie's mediocre writing and overall structure. 'Houdini' feels like a History Channel special on magic tricks rather than a biopic with it's overused fast paced cuts and cheesy sound effects. Although the one thing used effectively to draw our attention throughout the series is the spectacle of Houdini's genius.

…

Expand