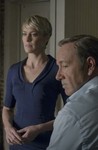 Starring:

Sakina Jaffrey, Robin Wright Penn, Michael Kelly

Summary:

The US remake of the 1990s British political miniseries moves the shenanigans to Washington DC. After learning he won't be appointed to a coveted Cabinet position, House Majority Whip Francis Underwood (Kevin Spacey) and his wife Claire plan revenge on the administration he helped elect.

Genre(s):

Drama
Creator:

Beau Willimon

Show Type:

Between Seasons

Season 1 premiere date:

Feb 1, 2013

Episode Length:

60

Air Time:

12:00 AM
Watch at whatever pace you'd like--immediately. Given its quality, I think you'll be drinking it all in sooner rather than later.

It's a heavyweight new contender in the drama category, just as Netflix now is as a content provider.

Deeply cynical about human beings as well as politics and almost gleeful in its portrayal of limitless ambition, House of Cards is a wonderfully sour take on power and corruption.

It's beautifully filmed in and around Washington, D.C., it's well-acted, and it's cleverly written by Beau Willimon.

I found the first two episodes handsome but sleazy, like a C.E.O. in a hotel bar. Yet by Episode 5 I was hypnotized by the show's ensemble of two-faced sociopaths. Episode 8 was a thoughtful side trip into sympathy for Spacey's devilish main character, but by then I was exhausted, and only my compulsive streak kept me going until the finale--at which point I was critically destabilized and looking forward to Season 2.

Fincher's unemotional style comes through in the first two episodes, and the show could use more heat. But Spacey makes it worth watching.

This series is about as inside-the-Beltway as Fiji, and Fincher's main plan to compensate for the stupidity level is to have the gentlemen whip off their glasses and the ladies whip off their clothes.
Absolutely amazing! Loved it, from the beginning to the end of the first 2 episodes I've watched. It has the David Fincher mood in it, Kevin

Spacey's constant neutrality in every bit of the show in a really cold blooded character, and the fluidity in which the story unfolds. Seriously, great show, watch it if you can, or get 1 month free on Netflix just to watch this. Best premiere I've seen in a series for a LONG time, maybe the best since Breaking Bad.

…

Expand

A well thought out and deliciously twisted storyline that will have you blow through episodes as fast as you did in Breaking Bad Season 1.

Stunning performances by Kevin Spacey and Robin Wright.

…

Expand

I really liked Season 1 but i thought Season 2 delivered so much more. I like sex on television as much as the next 29 year old, but I felt

season 2 offered more depth. The ending of season 2 in which Kevin Spacey cavalierly raps the desk was so classic.

…

Expand

A dark and cynical take on Washington with an incredible score, first-rate production values, and excellent performances (particularly by the

female cast). What keeps it from being better is that it is occasionally let down by heavy-handed and hammy dialogue and seriously hurt by a questionable turn in the 11th episode. This season is essentially all build-up, so at least there is another season to look forward to. 7.6/10

…

Expand

A stillborn series that began with the embarassing, moronic scene, that can't be anything but self-parody. Spacey's sardonic asides make him

look almost pathetic and self-deluded, and I don't think that was the creators' intention. Everything is so tired, boring and numbingly predictable.

…

Expand
Published:

December 12, 2013

Find a full list of the 71st Annual Golden Globe nominations in film and television, and a look at the year's surprises and snubs.

Published:

December 10, 2013

What were critics' favorite television shows of the year? Find their individual top 10 lists inside, as well as composite standings. (And check back for daily updates throughout the month).