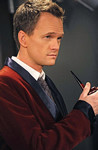 Starring:

Alyson Hannigan, Alyson Hannigan, Neil Patrick Harris

Summary:

Narrated by an (unseen) man in the year 2030 telling his children the story of his 20-something years, this "Friends"-like sitcom actually revolves around a group of five friends in present-day Manhattan.

Genre(s):

Comedy

Creator:

Craig Thomas, Carter Bays

Show Type:

Ended

Season 1 premiere date:

Sep 19, 2005

Episode Length:

30

Air Time:

08:00 PM
Romantic comedies depend on appealing actors, and these five are irresistible.

The script is humorous, though not hilarious, and the show boasts a fine cast that could, with time, jell into a great one.

How I Met Your Mother is that rare TV comedy that relies more on character than jokes.

Cute but not overly cuddly, there's an authenticity to the relationships in "Mother" that makes it a comedy worth meeting.

Time will tell if viewers take to this quintet as completely as they did [Friends'] Central Perk crew... but it seems as if How I Met Your Mother is the most legitimate knockoff yet of that youthful-urbanite juggernaut.

The writing does not yet live up to the show's premise, but the series has potential to improve.
I had avoided the show, it didn't sound sooo compelling, but after the first episode I was immediately hooked. This show easily tops

"Friends", and makes my wife and me laugh out loudly. It's funny, it's versatile, and the acting is totally impressive - because it's convincing. A real gem!

…

Expand

actually between 8 and 9 cleverest script among recent ones. fine cast. love it.

Great starturn! The show sems like some kind of Friends and Big Bang Theory, but the idea is great and the shows follows it nicely, the

characters are outstanding, the actors are great as well the performance, just great!

It's a starturn for this show really, but somes jokes sems to be repetitives, isn't something that spoilers the show at all, but is a little awkward detail.

…

Expand

I actually like the way it makes you follow the leads in the story but it used to be much funnier than the recent episodes. The FUN part of

the series is fading gradually! But the previous seasons were VEREY funny!

…

Expand