Network:

CBS

Series Premiere Date:

Sep 19, 2005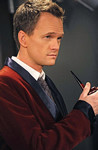 Starring:

Alyson Hannigan

,

Alyson Hannigan

,

Neil Patrick Harris

Summary:

Narrated by an (unseen) man in the year 2030 telling his children the story of his 20-something years, this "Friends"-like sitcom actually revolves around a group of five friends in present-day Manhattan.

Genre(s):

Comedy
Please enter your birth date to watch this video:
You are not allowed to view this material at this time.
Romantic comedies depend on appealing actors, and these five are irresistible.

The script is humorous, though not hilarious, and the show boasts a fine cast that could, with time, jell into a great one.

What truly makes the Bays-Thomas collaboration smarter than your average sitcom is the storytelling chances taken by the script.

Time will tell if viewers take to this quintet as completely as they did [Friends'] Central Perk crew... but it seems as if How I Met Your Mother is the most legitimate knockoff yet of that youthful-urbanite juggernaut.

Could... become a very pleasant surprise.

It is a little better than most other sitcoms, past and present -- especially those featuring wacky urban friends in their twenties experiencing the bittersweet mysteries of life.
I had avoided the show, it didn't sound sooo compelling, but after the first episode I was immediately hooked. This show easily tops

I had avoided the show, it didn't sound sooo compelling, but after the first episode I was immediately hooked. This show easily tops "Friends", and makes my wife and me laugh out loudly. It's funny, it's versatile, and the acting is totally impressive - because it's convincing. A real gem!

…

Expand

A truly wonderful sitcom that manages to strike a brilliant balance between comic moments and impressive character development. HIMYM's

A truly wonderful sitcom that manages to strike a brilliant balance between comic moments and impressive character development. HIMYM's characters seem realistic and draw the audience in making them truly feel emotions towards the characters of the show.

The way in which the story is told through a series of flashbacks is also very impressive and a great deal of credit must go to the writers as this cannot have been an easy way to write the show but simply it works.

…

Expand

A standout cast. Unpredictable writing. Funny and witty and warm. Uneven at times, but well worth watching.

This review contains spoilers, click expand to view.

When first hearing this show I was skeptical that it would be any good. However on watching it, I came to realize that is was a very good show indeed. The jokes are generally funny on the show (which is important for a comedy) and it is easy to like and relate to the characters. Exploring the past of Ted Mosby through his future perspective gives it an unique element that other comedies most certainly lack. The season ends well, and certainly encourages you to want to start watching season 2.

…

Expand

HOW I MET YOUR MOTHER is often unintentionally dry and repetitive. Often you find yourself yelling at the screen in frustration of the

HOW I MET YOUR MOTHER is often unintentionally dry and repetitive. Often you find yourself yelling at the screen in frustration of the stupidity of some of the lead characters, but the whole show is saved by a hilarious Neil Patrick Harris.

…

Expand

This show falls amazingly flat. The cast is so not funny and Neil Patrick Harris can not act (and he can be very rude). Jason Segal is

This show falls amazingly flat. The cast is so not funny and Neil Patrick Harris can not act (and he can be very rude). Jason Segal is generally very funny, but not in this.

…

Expand