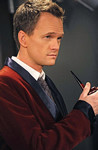 Summary:

How I Met Your Mother is a comedy about Ted (Josh Radnor) and how he fell in love. It all starts when Ted's best friend, Marshall (Jason Segel), drops the bombshell that he's going to propose to his long-time girlfriend, Lily (Alyson Hannigan), a kindergarten teacher. At that moment, Ted

realizes that he had better get a move on if he too hopes to find true love. Helping him in his quest is Barney (Neil Patrick Harris), a friend with endless, sometimes outrageous opinions, a penchant for suits and a foolproof way to meet women. When Ted meets Robin (Cobie Smulders), he's sure it's love at first sight, but destiny may have something else in store. The series is narrated through flashbacks from the future.

Original air time: Monday 8:00 PM EST

…

Expand

Genre(s):

Comedy

Show Type:

Ended

Season 4 premiere date:

Sep 22, 2008

Episode Length:

30

Air Time:

08:00 PM
This is nothing like friends, just people do not want to move on.....and they don't have to, but they also don't have to bring down every

other show because this is a refreshing new show and is really funny! It has a great cast and once you start watching it.....you have to go buying every other series, it is just this AWESOME fire deep within you, a LEGENDARY watch!

…

Expand

This is an amazing series! I love it an I am totally hooked on it! I am one of the thousands upon thousands of people that really want to know

who is the mother and how we meet her! I love it, it is funny, and has a lot of suspense!

…

Expand

This show has a great cast , brilliant story lines , funny one-liners , believable plot and a huge amount of suspense as America , Europe and

the rest of the world wait to find out who is the mother of , what has seem to become, our own.

…

Expand

Season 4 has many memorable moments, some of my favorite episodes are, The Best Burger in New York, Intervention, Shelter Island, Happily Ever

After, The Naked Man, Th Fight, Three Days of Snow, The Stinsons, The Three Days Rule, Right Place Right Time, and The Leap. How I Met Your Mother is a hilarious show and will always be one of my favorites, a true classic show in my opinion. Overall Score= 93/100

…

Expand

A better season for How I Met Your Mother, with a good story line in the Robin/Barney fiasco, which concludes very well in the series finale.

It is this series where the show is written far more like a drama in terms of continuing storylines, which if anything, makes the show even better

…

Expand

This show sucks big time, unlike friends in which you can laugh your asses out the 22 min. running episode is only funny when Barney is on screen.....