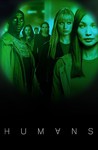 Starring:

Tom Goodman-Hill

,

Jill Halfpenny

,

Rebecca Front

Summary:

The sci-fi show based on the Swedish series "Real Humans" is focused on a universe where the latest gadget to have is a Synth, an android robot. Joe Hawkins (Tom Goodman-Hill) buys a Synth named Anita (Gemma Chan), hoping it will help his relationship with his wife Laura (Katherine

The sci-fi show based on the Swedish series "Real Humans" is focused on a universe where the latest gadget to have is a Synth, an android robot. Joe Hawkins (Tom Goodman-Hill) buys a Synth named Anita (Gemma Chan), hoping it will help his relationship with his wife Laura (Katherine Parkinson), who is skeptical.

…

Expand

Genre(s):

Drama

,

Science Fiction
Season 1 premiere date:

Jun 28, 2015

Episode Length:

60
Please enter your birth date to watch this video:
You are not allowed to view this material at this time.
Humans feels like that sort [The Twilight Zone] of instant and very humanistic classic. [22-28 Jun 2015, p.10]

And yet, given how derivative it is, (say it with me now), Humans turns out far better than you'd think possible. The performances, pacing and direction are that compellingly good, at least in the first two episodes made available to critics.

Humans finds a way to bring intrigue to a very familiar conflict.

While a subplot involving a John Brown-type Synth liberator, Leo ("Merlin's" Colin Morgan), is a heavy-handed distraction, Humans holds up as a slightly humorous, thought-provoking, creepy piece of sci-fi filled with sympathetic performances and solid writing.

In a vacuum, the series is a solid, if not thrilling, piece of classic science fiction, exploring questions about the line between man and robot, whether computers can have souls, and whether mankind is destined to be rendered obsolete by the machines we're creating.

For now, though, it's a familiar-looking drama that raises some less familiar questions about the things that makes us human--and the things that threaten to rob us of our humanity.

Humans does have that pleasingly antiseptic feeling of euro-cool about it (think of how the Benedict Cumberbatch "Sherlock" series looks, or BBC America's "Orphan Black"), which can sometimes lure viewers into the belief that they're watching something classy and sophisticated, when really they're just snacking on the TV equivalent of rice cakes.
Sci-fi/psychological is rising to a peak right now... Orphan Black, Mr. robot, and now this...my other favorite sci-fi is getting cancelled

Sci-fi/psychological is rising to a peak right now... Orphan Black, Mr. robot, and now this...my other favorite sci-fi is getting cancelled with only six more episodes this summer (looking at you Continuum). Anyway, this show is stellar and the pilot episode wastes no time diving into the deep. I was concerned it was going to take a while to build up to the disturbing synth behavior, but we are dropped into the disturbing scenario almost from the get-go. If you want an even better pilot than this DO NOT MISS MR. ROBOT; still I give both a ten trusting the rides of both are going to be worth it,

…

Expand

Love the show. I like the concept on how it is to be a human. Season 1 is great. The beginning of mystery, makes one thing i hope, about life.

Love the show. I like the concept on how it is to be a human. Season 1 is great. The beginning of mystery, makes one thing i hope, about life. Mind opening

…

Expand

Humans is a very profound and intense television show. A very thought-provoking story on the near-future that tells the disturbing truth where

Humans is a very profound and intense television show. A very thought-provoking story on the near-future that tells the disturbing truth where our technology might be headed. I am definitely looking forward to Season 2.

…

Expand

This review contains spoilers

, click expand to view

. I'm such a sucker for A.I, robot, synthetic stories. I saw a preview for humans and was very curious. I finished the 1st season and am overall pleased but I was far from blown away.

As much as the story grabbed me, I some how felt that the flow was a bit slow, but still grabbed me enough to keep up with it. I feel in love with all the Synths pretty much from the start, and found myself rolling my eyes at the humans, which I think you're supposed to do. However, to me it felt a bit cliche that that each one of the family members fit a stereotype. I actually liked the stories of all the synths much more. It shows you that even robots can have different experiences which fleshes out how they act and why they act that way. I found it very neat! Because it makes you wonder, how does a true A.I "feel" after being mistreated, or being pampered?

Even though the robots vs humans bit has been done before, I like the contrast in the show, where not everyone feels that Synths are bad. It keeps me on my toes the more I find out the history of the special Synths and to me is the key driving point to the show. However the family, I feel is randomly stuck in the middle of an odd situation and TBH, much like the kids in Jurassic World, we could have done without their "mum and daddy" issues randomly being thrown in.

What knocked Humans down to a 7 for me (which is still good! Don't get me wrong) is the finale, it dragged out awkwardly. Seriously, it goes from military like arrest, to questionable lab table experiments to lets play ball out in the yard, to lets have a family moment and a change of heart. I had higher hopes obviously, but scratched my head a few times throughout.

Season 2's trailer seems like they are ramping it up a lot more and hopefully gets their story and character development a little bit more on track.

Overall a Sci-Fi lovers show for sure. You'll definitely be entertained.

…

Expand

Any time the story involves anthropomorphic robots, you know it's going to be about them developing consciousness. And that doesn't really

Any time the story involves anthropomorphic robots, you know it's going to be about them developing consciousness. And that doesn't really matter anymore, the important thing is how you conduct your show and how you make a trite storyline feel fresh and innovative nonetheless.

Humans does it quite well, first and foremost by inserting the humanoid robots in a completely everyday suburban context and in what feel like contemporary times, instead of the far future. It's a cool start of the season, I'm just hoping the story becomes a little more intricate.

…

Expand

This Blade Runner knockoff originally made in Sweden, now a British co-production, is saved by some interesting twists on that basic premise

This Blade Runner knockoff originally made in Sweden, now a British co-production, is saved by some interesting twists on that basic premise that keep interest up. But with so much technology since why wouldn't there be?
It's set in England which is a very interesting and welcome departure from typical American shows, even if the accents are not, and airing on what was once known as the American Movie Classics channel yet it's neither American, nor a movie, nor a classic. So much for the stupid network's nonsensical name which they should have either changed or stayed what they were for content. Even back then, ever seen some of the trash they aired? If those are classics, then the word no longer has any meaning morons! They will say it is now just the acronym but that doesn't excuse their past idiocy.

…

Expand

The only way to like this show is if you already have a penchant for Eastenders and Corrie, if thats the case you probably havent heard the

The only way to like this show is if you already have a penchant for Eastenders and Corrie, if thats the case you probably havent heard the story of Androids becoming self aware. If you have you are in for one massive disappointment. Theres not much special FX to keep you interested either, its hammy acting by a cast that wouldnt get work on Neighbours never mind the UK soaps, the storyline is as unoriginal as it gets and the amount of suspending your disbelieve it asks isnt worth it.
If they really spent the millions they say they did on this show, then you are reading a review by a two tailed, one eyed cat.

…

Expand