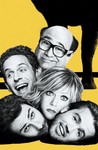 Creator:

Rob McElhenney

Season 4 premiere date:

Sep 18, 2008

Episode Length:

30
Please enter your birth date to watch this video:
You are not allowed to view this material at this time.
IT'S ALWAYS SUNNY IN PHILADELPHIA: SEASON 2
As usual, the improvised feel of the show adds to its energy.

Somehow, this ridiculous show manages to entertain us without any semblance of character development or the remotest whiff of a familiar, relatable scenario.

Not all of the show's demented comic gambits work, but Sunny gets points for inventiveness, and all things considered, the show is far more consistently entertaining than it was in its first couple of seasons.

Thank goodness for Danny DeVito, whose total commitment to this insanity often makes the unbelievable just believable enough to be funny.

At some point, the gang on It's Always Sunny in Philadelphia will no longer be able to top itself, no longer do or say things that are even more wrong than the last thing they said or did. It hasn't happened yet.
Still, I have yet to get sick of this show. Its hilarious and has been since the start. Its a must watch tv show imo. I dont see how people

Still, I have yet to get sick of this show. Its hilarious and has been since the start. Its a must watch tv show imo. I dont see how people can hate it. Its great.

…

Collapse

This show is absolutely amazing! The unique indie feel and the crazy characters fit perfectly. Although some things do get a bit stupid most

This show is absolutely amazing! The unique indie feel and the crazy characters fit perfectly. Although some things do get a bit stupid most of the jokes are just stupid and offensive enough to work. I love the reoccurring guest stars, especially Cricket and Artemis. All together a great comedy with actors born to play their parts, it's crazy and I love it!

…

Expand

The best show ever made very very very funny. keep up the good work.

Best comedy on TV. Easily the funniest show on TV right now.

In this politically correct day an age in which network executives constantly fear offending people it is truly refreshing to watch a comedy

In this politically correct day an age in which network executives constantly fear offending people it is truly refreshing to watch a comedy series that plays by its own rules. Much like The Simpsons each episode is almost virtually self contained and regardless of what happens everything is always back to normal by the following installment. This allows the writers freedom to put the characters in pretty much any situation they wish (up to and including becoming kidnappers and hunting a homeless person) and while this of course means not every gag completely hits the mark the fast pace and excellent performances of It's Always Sunny in Philadelphia ensures there are plenty of laughs.

The best season yet.

…

Expand

Absolutely hilarious. The episodes are extremely well drawn out if you pay close enough attention. "The Gang" is able to base some of their

Absolutely hilarious. The episodes are extremely well drawn out if you pay close enough attention. "The Gang" is able to base some of their themes on controversial issue in an almost unbiased manner. Almost. The one downside is that they continuously talk at the same time in an inane babble every 5 minutes.

…

Expand

I'm really hoping that this show is improvised, because if the material on this show is actually scripted, wow. Just wow. Just a note:

I'm really hoping that this show is improvised, because if the material on this show is actually scripted, wow. Just wow. Just a note: The S word isn't a punchline by itself. I gave it 1 point because I appreciate DeVito. He's funny, just not here.

…

Expand