Network:

HBO

Series Premiere Date:

Nov 24, 2013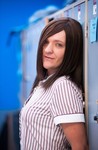 Starring:

Chris Lilley

,

Georgie Jennings

,

Georgia Treu

Summary:

The latest comedy from Australian comedian Chris Lilley sees his We Can Be Heroes/Summer Heights High character Ja'mie King returning to her private school to complete her senior year.

Genre(s):

Comedy
Creator:

Chris Lilley

Season 1 premiere date:

Nov 24, 2013

Episode Length:

30
I admit to being underwhelmed by some of Lilley's previous efforts, but Ja'mie is an enjoyably sick wallow in the evil that lurks in adolescence, as well as a formidable exercise in extreme portraiture.

Because this series doesn't tell us anything about the character we didn't know (a Mr. G spinoff might have been much better), it's often like spending time in purgatory. The laughs are there. Ja'mie's just not easy to take.

Lilley's writing is sharp and funny. He has an uncanny insight into high school. But the story is slow to unfold, and after two or three episodes, the premise feels stretched as tightly as Lilley trying to squeeze into Ja'mie's school uniform.

It's basically a one-joke show--a guy in drag plays the leader of a clique of mean girls--that pales compared with the smart unpredictable chaos of comedy in "Getting On."

Centering one of Lilley's most annoying characters in a series to ramble on incessantly robs the character of its past effectiveness and makes her--and the series--almost unbearable to watch.

It's a painfully obvious shtick, so camp and arch it's impossible to enjoy the joke.

Their all-that activities become redundant and tiresome at WARP speed, raising the overall question of whether watching Ja'mie: Private School Girl on a continuous loop would be worse than eternal burning in hell.
Look at all these mad girls giving zeros! Sorry to shock you girls but this is how many of you act. I am so happy for this show's existence.

Look at all these mad girls giving zeros! Sorry to shock you girls but this is how many of you act. I am so happy for this show's existence. It is hilarious and enlightening.

…

Expand

Another example of critics being totally wrong. Ja'mie is brilliant. Half way through you'll forget that you're watching a 30 something man

Another example of critics being totally wrong. Ja'mie is brilliant. Half way through you'll forget that you're watching a 30 something man playing a 17 year old girl. It's laugh out loud funny.

…

Expand

This review contains spoilers, click expand to view.

Loved it. As a girl, who grew up well..as a girl..I would say Lilley does a great job at orchestrating teen life. The show ebbs and flows in different directions, so I can see why certain people may get annoyed with it. She's not a lovable character. That shouldn't matter. I love imperfect female (identified) characters that can show us our best and our worst. Women are diverse, and imperfect and not always heroines. It does not have the super quick pace that people are used to with Summer Heights High or Angry Boys. Because this time our focus is on a singular family unit. I was highly impressed by Lilley and his dissection of youth and the adults who influence them. I get lost in his work and he always makes me LOL. I definitely feel like there may be some bias towards this show since most of the reviews are from very catty men...i.e "the premise feels stretched as tightly as Lilley trying to squeeze into Ja'mie's school uniform." Sounds like something straight from J'amie's mouth. No he doesn't look like a teen girl, but that's a good part of some of the jokes. Calling him fat would also be ridiculous because he has a better body then I do as a woman.Over all highly impressive, esp. the finale where I felt that J'amie exposing herself at the assembly with her friends meant to me that she really just wants to be accepted as who she is, without really knowing herself or her direction at a crucial time in her life, i.e puberty/adolescence. Reinventing herself is a trait I see in a lot of girls and adult women constantly including myself, as well as feeling lost without a direction we wish we had. Over all phenomenal work, my fav of all his series so far.

…

Expand

Let's remind ourselves that any of Chris Lilley's shows are works of satire. It's not supposed to be glamorizing the horrible things that

Let's remind ourselves that any of Chris Lilley's shows are works of satire. It's not supposed to be glamorizing the horrible things that Ja'mie or any of Chris Lilley's other characters did. But some teenagers today have taken it too far by adoring how terrible they are, or maybe because they're actually funny, which I could say the same thing why I like Ja'mie.

The brash, sarcastic humor in this show is actually funny thanks to Chris Lilley's performance as Ja'mie. It's a scary fact that these girls exist still today and whoever does not think so might need to have a reality check.

As for the plot goes, it's a typical teenage show plot, so it's okay. It's something MTV or ABC Family would do if they're not so scared to add profanities or nudity on screen. (Yes, there is nudity in the show, especially on the final episode.) It's not that great as Angry Boys but it's still pretty entertaining to watch.

The production value in this show is what I give credit for. It seemed like the cast on the show seemed to have a good time making this show and hence, added props to workmanship with Chris Lilley.

As regards to the final episode, I felt like this might be a conclusion for Ja'mie King's story, that there will be no follow-ups or whatsoever and I felt satisfied afterwards.

While this stand-alone show of Ja'mie is entertaining at its best, it's not great as Summer Heights High or Angry Boys so if you have high exceptions that this show would top these two shows I mentioned, then I suggest you should not watch this then.

…

Expand

I totally disagree with these negative reviews. (Notice how they are all written by men.) Who cares what the Pittsburgh Post-Gazette has to

I totally disagree with these negative reviews. (Notice how they are all written by men.) Who cares what the Pittsburgh Post-Gazette has to say about anything anyway? I thought the first episode of "Ja'mie" was hilarious. I had never heard of Chris Lilley before watching this, and I'm now interested in seeing the rest of his work.

…

Expand

The initial concept is interesting and I'll admit I laughed a great deal during episode one however, after three episodes the jokes become a

The initial concept is interesting and I'll admit I laughed a great deal during episode one however, after three episodes the jokes become a tad repetitive and some scenes honestly are hard to watch. You'll laugh but not sure I'd fully recommend Ja'mie.....

…

Expand

Just saw the show. It's strange and not just cause of the different school structure in Australia versus the US. Although the character

Just saw the show. It's strange and not just cause of the different school structure in Australia versus the US. Although the character played by lilley is the center of the mockumentary.......it's only that character that has any meaningful dialog. It's all lilley... and this strangely sexual child he portrays. For that reason alone it leaves the character without context and thus completely unsympathetic. In order for character studies to be funny the audience must resonate. I did not. I have been a girl and a woman all my life. I have never met any girl or woman that resembles that character. The self obsession in sexual terms is the center...and it fails. No girl does all the things this creature does. Ugh..
Won't be watching or recommending.

…

Collapse