Network:

The CW

Series Premiere Date:

Oct 13, 2014

Season #:

1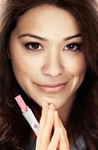 Summary:

After being told by her telenovelas-obsessed grandmother the importance of being a virgin until she marries, 23-year old Jane Villanueva (Gina Rodriguez) finds herself pregnant after being accidentally artificially inseminated in this adaptation of a Venezuelan telenovela.

Genre(s):

Comedy

,

Drama

Show Type:

Hasn't Aired

Season 1 premiere date:

Oct 13, 2014

Episode Length:

60

Air Time:

09:00 PM
The series finds just the right balance, creating a unique place for itself among the current network fare. With its down-to-earth lead character and self-aware, but not self-parodying approach, Jane The Virgin is a breath of fresh air that will hopefully find a strong and loyal fan base.

This one could take off, especially if the humor doesn't obscure the layers of Jane's moral journey.

That the whole pilot doesn't collapse into a pile of rubble is due to Rodriguez--or maybe because Jane is so confoundedly odd you want to see what happens next.

It's a delightful comedy-drama about a young woman faced with a completely unexpected dilemma, and it's so inherently endearing that I'm very eager to see how the story of Jane and her fractious but loving family unfolds.

While the situations are far-fetched, the emotions are real. And Rodriguez, as a young control freak coming to terms with a situation she can't easily control, or dismiss, is terrific.

Jane the Virgin isn't exactly sui generis: it has traces of past series that blended whimsy and wile, including "Ugly Betty" and "Pushing Daisies," but this show has a delightful heroine and its own sweetly wicked inflection.

Even by the soap-opera standards of telenovelas, it feels a little much. The pieces at first don't always mesh smoothly. Rodriguez is terrific, though, and this could be that rare telenovela that assimilates.
It's a pretty spectacular first episode. The writing, the directing and the acting were all tremendous. Special mention of the lead actress

and her baby daddy because they were both pretty awesome. I didn't think the CW had it in them to uncork something this fresh and original. And of course I realize that the Tele novella format is not original but for the American audience it really is. The best soundtrack for an episode during the season would be Bella Novela's "Telemetry" which was inspired by these Spanish-language soap operas. Great band, great show.

…

Expand

Jane the Virgin opened up great with charming and talented cast and again charming writing. Everything is charming in this tv series and it

definetly deserves a chance.

…

Expand