Network:

ABC

Series Premiere Date:

Jan 7, 2014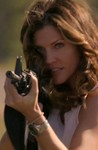 Starring:

Marc Blucas

,

Michael Trucco

,

Tricia Helfer

Summary:

The life of Molly Parker (Tricia Helfer), one of the first women Texas Rangers is the focus of this drama executive produced by Sofia Vergara, Martin Campbell, Ben Silverman ("The Office"), and Luis Balaguer.

Genre(s):

Drama

,

Action & Adventure
Season 1 premiere date:

Jan 7, 2014

Episode Length:

60
It's not doing a whole lot of work to examine the role of women in society, but it is a show with a single and still-novel goal: to entertain women, without patronizing them.

The show's action-packed and wildly improbable, but Helfer looks as if she might be having fun, and if you don't think too hard (and wouldn't rather be watching the gunplay in "Justified"), you might, too.

It breaks absolutely no new ground, but it's lively, fast-paced and enjoyable enough, if you like this sort of thing.

Both [Killer Women on ABC, "Intelligence" on CBS] feel like paint-by-numbers hours, unsatisfying offerings that are difficult to recall an hour after you've watched them.

At heart, Killer Women is a procedural drama with a surface-strong female protagonist; scratch the surface and it's the same easy, familiar programming.

Expect nothing new under the sun from a drama set in San Antonio, filmed in New Mexico and falling flat wherever the cameras might roll.

This is a really bad show. It's a show so bad that if it was smart enough to be a spoof, it would be genius. But it's not.
I thought Tricia Helfer was awesome and the show was very well written. Compared to the most popular shows that make it look normal to be

I thought Tricia Helfer was awesome and the show was very well written. Compared to the most popular shows that make it look normal to be totally off the chart dysfunctional this show was a breath of fresh air.

…

Expand

It's a pretty good show. It's got a great cast and so far the cases have been good as well. It also manages to include the main characters

It's a pretty good show. It's got a great cast and so far the cases have been good as well. It also manages to include the main characters non-work related issues to give the show a more dramatic feel, even if one or two of them feels a little awkwardly written. I would also have liked to see a larger focus on action, as the trailers had me believing the show would have a sort of grindhouse feel to it. Even though I see room for improvement I still enjoy the show and I recommend you give it a look. Who knows, you might just end up loving it.

…

Expand

I like this show. Tricia Helfer looks like a Texas Ranger. Thing is, when she draws her 1911 I get a bit annoyed. The Colt 1911 is an

I like this show. Tricia Helfer looks like a Texas Ranger. Thing is, when she draws her 1911 I get a bit annoyed. The Colt 1911 is an amazing fighting weapon, but to be of any use it has to be carried cocked and locked, i.e., with the hammer cocked and the safety on. It won't shoot otherwise. Twice now I've seen Ranger Parker draw her weapon only to observe the hammer in the down position. If she pulled the trigger, nothing would happen. In the 4th episode Molly drew her 1911 as she descended into a cellar to save Becca from the crazy broad Carmen. Again, the hammer was down. Useless like that. However, when Carmen smacked Molly and took her gun away, all of a sudden the hammer was cocked. These might be little details most people would miss, but to those of us who admire authenticity, it detracts from the show.

…

Expand

I was expecting this to be yet another bland, generic cop show, but its even worse than that. There is nothing interesting about the

I was expecting this to be yet another bland, generic cop show, but its even worse than that. There is nothing interesting about the characters or plot.

…

Expand