Network:

HBO

Series Premiere Date:

Nov 16, 2013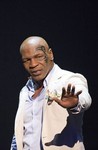 Summary:

Boxer Mike Tyson recalls the highs and lows of his career during his one-man Broadway show filmed and directed by Spike Lee over two performances in July 2013.

Genre(s):

Movie/Mini-Series
Show Type:

TV Movie

Season 1 premiere date:

Nov 16, 2013
Lee directs the film in a way that spotlights Tyson's humor and a degree of articulation that probably still surprises a lot of people.

There's no doubt that the former heavyweight champ comes off far better than you ever imagined in this filming of his 2012 Broadway one-man show, directed with spark and sincere admiration by longtime friend Spike Lee.

The anecdotes slam into each other with a punch-drunk indifference--but director Spike Lee's style is a series of swift jabs. [18 Nov 2013, p.47]

Strictly in TV terms, Lee has done an admirable job of bringing the 86-minute performance to the screen, for the most part avoiding tight close-ups because Tyson's body and movements are such a part of the show, working up a noticeable sweat as he prowls the stage.

Here, he proves himself a solid entertainer with a fascinating story, but never comes across as fully believable, as if he's actually sharing the whole story.

Mike Tyson: Undisputed Truth is not quite the train wreck one might expect.... Mostly he vents. And whether Mr. Tyson delivers the truth as advertised isn't really the question. It's whether anyone, at this point, cares very much.
Give credit where credit is due. Sad to say, the beginning of the Mike Tyson story is not unusual; disadvantaged, broken dysfunction family,

Give credit where credit is due. Sad to say, the beginning of the Mike Tyson story is not unusual; disadvantaged, broken dysfunction family, poorly educated, brought up on the tough streets of Brooklyn, but a young man with unusual pugilistic talent and although Cus D'Amato believes in him, tells Mike, that he will one day become the youngest heavyweight champion of the world; we need only to remember that this world is filled with unfulfilled destinies, and broken dreams. Iron Mike through hard work, talent, and dedication, fulfills those dreams and his story becomes one then of fame, fortune, and pleasure absolutely shattered. Still we learn through this one-man drama, that just below the surface of Tyson, through all the ups and downs, incarceration, drug addiction, and divorce that he yearns most for familial love both to give and to receive.

…

Expand

I was wanting to like this, was wanting to hear something a bit more substantial. Instead after what seemed like a 10 minute rant on how he

I was wanting to like this, was wanting to hear something a bit more substantial. Instead after what seemed like a 10 minute rant on how he kicked a boxers ass in a nightclub, I couldn't stand what was, in collaboration with a fawning audience, just a glorification of brutal violence. I just felt pity for the guy. I didn't want to watch past about 53 minutes. Still a thug at heart and I was hoping he would redeem himself to a certain degree.

…

Expand

Should have been to Denmark but canceled for the 2nd time, wrote a email to ask why but no answer, so bad and lousy from a so called champ and

Should have been to Denmark but canceled for the 2nd time, wrote a email to ask why but no answer, so bad and lousy from a so called champ and his manager or who is in charge, yes I am disapointed, we have so rarely a chance to see big former personalities.

…

Expand