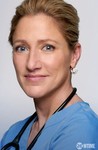 Summary:

Season three picks right up from season two, with Jackie hiding from her husband and best friend after they showed her proof of her drug addiction.

Genre(s):

Drama
Show Type:

In Season

Season 3 premiere date:

Mar 28, 2011

Episode Length:

30

Air Time:

09:00 PM
Season 3 of Showtime's great Nurse Jackie brings romance to student nurse Zoey. [25 Apr 2011, p.44]

With this bracing and comic new set of 12 episodes, Nurse Jackie has evolved into a rigorous, fascinating portrait of denial, of how it works when someone deceives herself and everyone around her

Nurse Jackie is delivering quite nicely with the personnel on hand. Among other things, it confirms that the best comedy is often rooted in things that are not funny at all, but make people act in funny ways.

Like so many Showtime comedies, Jackie leaves us feeling a bit conflicted. But the acting, caustic characters and looming consequences make Season 3 destination viewing for anyone who's already hooked--and a worthwhile pursuit for anyone still on the fence.

The problem with Jackie is that split personality--drama or comedy. What's funny here is funny, like last season's final seconds. There aren't enough moments that remind you when to laugh.

When Jackie snaps over one patient's plight, she could be speaking for impatient viewers: "People gotta stop trying to save people who don't want to be saved." Same goes for TV characters stuck in the same shtick.

I don't have much new to say about the third season of Jackie, because the show's strengths and weaknesses are the same as they've always been.
I don't know why more people have reviewed this but I suppose it is because it isn't new, but the same sarcastically funny, but sad at the

same time show. The acting is superb as is the writing and direction. I love all the characters with their witty repartee every week. I am sad it is on it's last episode this week. We need more shows like this geared for all ages and not just for the twenty somethings and immature 30 somethings, and hopefully not immature 40 yr old's.

…

Expand

The first season was fantastic. The second season was good. This season was un-even all over the place and generally not very good at all.

Sorry, Showtime. The horrible show you call The Big C, the cancellation of United States of Tara and the degrading of Nurse Jackie have eliminated you from my book.

…

Collapse
Published:

January 5, 2010

Read about the biggest and best new series debuting in the coming months, find out when your favorite programs are returning, and watch trailers for over two dozen shows.