Network:

Showtime

Series Premiere Date:

Jun 8, 2009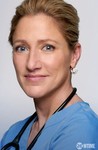 Summary:

Jackie juggles her addiction, her AA sponsor Antoinette (Julie White), Frank (Adam Ferrara), her ex-husband Kevin (Dominic Fumusa) and her daughter Grace (Ruby Jerins).

Genre(s):

Drama
Season 6 premiere date:

Apr 13, 2014

Episode Length:

30
Edie Falco makes the stakes scarily real. [21 Apr 2014, p.43]

Falco is very good, always is, but her show has gotten tired.

Watching Jackie go back on the drugs, lying to her support group as well as her current better-than-she-deserves cop boyfriend Frank (Adam Ferrara), you can't help but get a dispiriting feeling of been-there, snorted-that. Bright spots include Emmy winner Merritt Wever as the irrepressible nurse Zoey.... and the arrival of the terrific Julie White.

At one time, it was possible to enjoy Nurse Jackie even for viewers who were over Jackie's drama because the supporting cast was so much fun. There's something less entertaining about them these days, too. Their plots sometimes feel like a stretch, as if the writers are grasping for stories for them.
Published:

January 5, 2010

Read about the biggest and best new series debuting in the coming months, find out when your favorite programs are returning, and watch trailers for over two dozen shows.