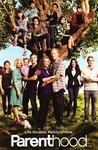 Summary:

Based on the 1989 film of the same name, 'Parenthood' is an hour long comedy-drama produced by Jason Katims and Ron Howard. The show addresses the modern challenges of raising kids in this post-technological world, addressing issues that affect both kids and parents.

Genre(s):

Comedy

,

Drama
Show Type:

Between Seasons

Season 2 premiere date:

Sep 14, 2010

Episode Length:

60

Air Time:

10:00 PM
The continued ooey-gooey goodness of TV's best family drama is particularly satisfying tonight, spotlighting story lines from the underutilized Joel (Sam Jaeger) and the oddly interesting Crosby (Dax Shepard).

This well-constructed drama is something to treasure on the TV schedule--it's a show that respects our everyday experiences and emotions and yet also manages to entertain.
Parenthood is a fantastic family show. The entire cast is amazing and the stories are really relatable. You just want the Bravermans to be

happy! Watched and love this show!!

…

Expand

The storyline's need to be boosted, but Monica Potter gives it a huge boost. Amazing. I really did fall in love with the show, along with half

the world. The whole cast, including of-course Potter, are amazing actors, byt again, the storyline's need to be improved!

…

Expand

This show is not telling people how to raise their kids, this is an amazing show and can go from deep to hilarious, it has a very wide range.

A masterpiece is what this show is. Monica Potter, Peter Krause, Lauren Graham and Dax Shepard are amazing and I really think that other networks will have to boost their game, because here comes Parenthood!

…

Expand

Love it, so enjoyable and really funny, the actors are amazing and the show gives you a warm fuzzy feeling, and at times can really make you

feel for the characters, only a. few shows can do that.....and this is one.

…

Expand

What is wrong with Parenthood this season? New writers? Most scenes this season involve conflict and are rather chaotic. And the ending of

episode 1 seemed so contrived and unrealistic. Where is the warmth and realism of last season? Parenthood season 1 was my favorite TV show. My girlfriend and I looked forward to it each week. Not this season.

…

Expand
Published:

February 14, 2013

Which current TV shows have the best odds of returning, and which are likely to be canceled? We survey a group of industry experts to predict the fates of Community, Happy Endings, Vegas, Go On, The Following, Nashville, Beauty & The Beast, and more bubble shows.