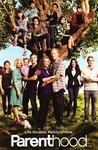 Summary:

Parenthood goes for a second try at the small screen after delays caused by cast and production changes to introduce the extended Bravermans clan. It includes Zeek and Camille's (Craig T. Nelson and Bonnie Bedelia) four grown children (Lauren Graham, Peter Krause, Dax Shepard, Erika

Christensen) and their offspring.

…

Expand

Genre(s):

Comedy

,

Drama
Show Type:

Between Seasons

Season 1 premiere date:

Mar 2, 2010

Episode Length:

60

Air Time:

10:00 PM
Its first two episodes do give the show a very strong foundation on which to build.

Tere's real promise in Parenthood. In time, we may all genuinely care whether Crosby and Sarah find themselves, or at least grow up.

While everyone is terrific, Tierney brought it to another level. Graham's Sarah is more frenetic than the low-key Tierney's version, but kudos to Graham for stepping in and making Sarah her own. Solid stuff all around.

The overstuffed pilot piles on a few too many weepy crises, many involving Adam's young son (who may have Asperger's syndrome), but the strong cast's considerable charm breaks through.

It has a very good cast, and Katims has a great track record. But he doesn't seem to have quite figured this one out yet.

This one starts out at a frenetic clip, and even A-list talent is helpless in the face of the formulaic banter that such occasions demand. Only when the show slows down--midway through, does Parenthood suggest that it may have something worth watching.

Watching this dismal intragenerational cluster of families is sort of like seeing a Roots for the cannibal gangs in The Road.
Love it, so enjoyable and really funny, the actors are amazing and the show gives you a warm fuzzy feeling, and at times can really make you

feel for the characters, only a. few shows can do that.....and this is one.

…

Expand

This is one of the best shows I've seen in a long time. It's got real life stories that make you laugh and then will have you crying 5 mins

later. I hope this show stays on for a long time.

…

Expand

I give this show a 10 definitely. There are just so many reasons why this is a great show. It's a family show, which unfortunately there's not

allot of those anymore. It's real, real life circumstances, real life behavior, ext. The acting is so incredibly good it just makes it that much better. I have fallin in love with the story line, the actors & the directors have really come together & u can tell they've dedicated so much time. Truly will be unfortunate when it ends, like all the good ones do.

…

Expand

My favourite show by far. When "Forever Young" starts to play, I have an emotional reaction. I love the mix of strong yet fallable

characters. Craig T. Nelson is in his best role yet. Lauren Graham plays her part perfectly. All of the kids are incredible. But the most incredible performance by far is undeniably Monica Potter. How she has not been recognized for her performance is unfathomable. I hope this show starts to get the recognition it so greatly deserves.

…

Expand

This show is not telling people how to raise their kids, this is an amazing show and can go from deep to hilarious, it has a very wide range.

A masterpiece is what this show is. Monica Potter, Peter Krause, Lauren Graham and Dax Shepard are amazing and I really think that other networks will have to boost their game, because here comes Parenthood!

…

Expand

This show is a worthy successor to the Herskowitz/Zwick shows I miss so much (thirtysomething, My So-called Life, Once and Again, etc.).

While the characters are overly-expressive in a way which can seem off-putting and unrealistic, this provides a dramatic world which becomes very involving and inspiring to viewers. The warm lighting, beautiful set design, and beautiful cast also enhance our eagerness to enter their world. This involvement in the many dramas and story-lines which enrich us as we consider our own feelings about their situations and decisions. Shows like this provide an important and satisfying reward shared by all worthy art: they prepare us for our own lives.

…

Expand

I gave this show a try when it first stared but I only stayed with it for a few episodes. They try to hard to be dramatic when the drama just

isn't there. The things the parents deal with aren't that big of a deal. It's every day stuff, no big deal at all but if you watched the show with the sound turned down you would think somebody was dieing every episode. Sorry but this show is a swing and a miss.

…

Collapse
Published:

February 14, 2013

Which current TV shows have the best odds of returning, and which are likely to be canceled? We survey a group of industry experts to predict the fates of Community, Happy Endings, Vegas, Go On, The Following, Nashville, Beauty & The Beast, and more bubble shows.