Network:

ABC

Series Premiere Date:

Sep 27, 2015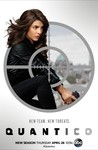 Starring:

Josh Hopkins

,

Aunjanue Ellis

,

Johanna Braddy

Summary:

Alex Weaver (Priyanka Chopra), Ryan Booth (Jake McLaughlin), Shelby Wyatt (Johanna Braddy), Nimah Anwar (Yasmine Al Massri), Caleb Haas (Graham Rogers), Simon Asher (Tate Ellington) and Eric Packer are new FBI recruits trained by FBI academy director Miranda Shaw (Aunjanue Ellis) and Special

Alex Weaver (Priyanka Chopra), Ryan Booth (Jake McLaughlin), Shelby Wyatt (Johanna Braddy), Nimah Anwar (Yasmine Al Massri), Caleb Haas (Graham Rogers), Simon Asher (Tate Ellington) and Eric Packer are new FBI recruits trained by FBI academy director Miranda Shaw (Aunjanue Ellis) and Special Agent Liam O'Connor (Josh Hopkins). However, one of them may be the person responsible for a future terrorist attack.

…

Expand

Genre(s):

Drama

,

Suspense
Creator:

Joshua Safran

Season 1 premiere date:

Sep 27, 2015

Episode Length:

60
Please enter your birth date to watch this video:
You are not allowed to view this material at this time.
Pacing is a problem for most pilots--so many characters to introduce, meaningful stakes to establish--but Quantico, from "Gossip Girl" producer Joshua Safran, does this effortlessly, with at least one deadly effective twist you won't see coming. Just don't come looking for subtlety.

We're left with just a sense of promise. And Quantico is a hell of a promising pilot.

The difference between Quantico and other new dramas is that Quantico totes its bullshit with a sense of wit and style.

Writer Josh Safran (season two of "Smash") allows Quantico to bubble with questions and craftily gives all the characters motives. It's a crackerjack, character-driven mystery that showcases a uniformly attractive, United Colors of Benetton cast.

Prior to the ludicrous escape, the pilot had done an admirable job keeping up the pacing, the interest and certainly the excitement level. That alone should get you to watch the second episode.

If hardly a moment feels plausible, the show has energy to spare and so many balls in the air by the end of the pilot that it's hard not to want to see where they will come down.

Based on first impressions, Quantico seems to be stationed in a more mundane realm. The question now is whether the show can get away with it.
Absolutely brilliant. So many twists and I was thrilled for whole one hour. Priyanka Chopra is Outstanding as Alex Parrish and the whole cast

Absolutely brilliant. So many twists and I was thrilled for whole one hour. Priyanka Chopra is Outstanding as Alex Parrish and the whole cast is incredible.

…

Expand

Love it ! Priyanka Chopra dose a great job as the lead!

Good cast! Good Plot! great twists! Most of my friends think this isLove it ! Priyanka Chopra dose a great job as the lead!

Good cast!

Good Plot!

great twists!

Most of my friends think this is better than homeland. But I may differ in that. But still its good!

…

Expand

The show's not bad, its just not very realistic. Yes, the FBI Training Facility looks less like a training facility and more like a resort for

The show's not bad, its just not very realistic. Yes, the FBI Training Facility looks less like a training facility and more like a resort for perfect-bodied people. And yes, sometimes the personal drama is a bit much. But what do you expect?? It's television! It's entertainment!

For those who are complaining that the flashbacks and details make the show hard to follow... I don't know what to tell you. It's not a very complicated show. Perhaps you should have stayed in school.

…

Expand

The second season of this show has become so over-the-top I can't stand it. Waste of good talent. It's just not smartly done anymore. It's

The second season of this show has become so over-the-top I can't stand it. Waste of good talent. It's just not smartly done anymore. It's like the writers were like, "sh**, we got renewed!! Now what?!!!"

…

Expand

I created an account so that I could write a little about this show.
It is absolutely awful. I could not even get to evaluating the plotI created an account so that I could write a little about this show.
It is absolutely awful. I could not even get to evaluating the plot because of how distractingly bad the rest of the writing is. I don't think I have ever heard worse banter between characters. They all sound like they have sticks up their ass, in a way that I cannot help but think the writers did not intend. And to all those people saying this show has a PC agenda: if it does, it is wholly failing to carry it out. Characters often reference lots of things that are PC in ways that are over the top, insensitive, and sound ridiculous; certainly not PC, but it really does seem that the writers are actually trying to make their characters come off as aware and PC: Not working, writers.
I hope the writers of this show stop writing it immediately. The characters are attractive, so that is nice, and it might have a plot that could be entertaining but not original if the rest of the writing (and acting) wasn't so bad, but that's about it.

…

Expand

Well in the last episode of the second season, their plan they were working on for three months was discovered, because the place they were

Well in the last episode of the second season, their plan they were working on for three months was discovered, because the place they were meeting was bugged. They then go on to come up with a new plan in the same room. I hate this show, so much. But I still have seen every episode, because I have to know how things end. But it is a really really really bad show. "Super spy" Alex would have died 100x over if this was real life.

…

Expand

Because Of Priyanka Chopra I quit to watch the show - could you please Replace her- with a proper or any other Decent actress- don't get it

Because Of Priyanka Chopra I quit to watch the show - could you please Replace her- with a proper or any other Decent actress- don't get it why hollywood take her in- when she already turn flop in India and couldn't find any good movie due to her - dirty acting - and she entered in quantize and ruined entire episode .

…

Expand