Network:

TNT

Series Premiere Date:

Jul 12, 2010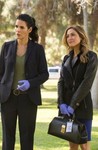 Starring:

Angie Harmon

,

Sasha Alexander

,

Jordan Bridges

Summary:

Based on the Tess Gerritsen novels, detective Jane Rizzoli (Angie Harmon) and medical examiner Dr. Maura Isles (Sasha Alexander) work together to solve crimes in Boston.

Genre(s):

Drama
Season 1 premiere date:

Jul 12, 2010

Episode Length:

60
Please enter your birth date to watch this video:
You are not allowed to view this material at this time.
Expect some equally strong language to reflect the harshness of the crimes, but enough charisma from the protagonists to keep the show from derailing into glorified grisliness.

With The Closer and Rizzoli & Isles, you're in the company of smart women who know how to laugh at themselves and close cases.

The good part involves just about any scene focusing on Angie Harmon ("Law & Order") as Boston homicide detective Jane Rizzoli. The flip side? Just about every scene that isn't centered on her, especially those involving Jane's best friend, medical examiner Maura Isles (Sasha Alexander).

Yes, Rizzoli & Isles is quick with cliches....[But] for all the stereotyping, it's hard to be mad at Angie Harmon.

The familiar show, which is set in Boston but too clearly filmed elsewhere, adds in some romantic intrigue, as both Harmon and Alexander appear to be interested in the same FBI agent (Billy Burke). But the dominant theme on Rizzoli & Isles, as on "The Closer,'' is fighting crime and not fighting tears.

Aside from the lurid nature of the crimes and some salty language, though, Rizzoli & Isles is just what the title sounds like--a place for second-hand goods at reasonable prices.

This derivative mish-mash apes countless TV series that have gone before. Badly. It's full of stereotypes and characters who are so fake they're flatter than your average low-budget cartoon.
I was fortunate enough to see the first two episodes of Rizzoli and admit that I loved the banter and the story line. I thought it has some

I was fortunate enough to see the first two episodes of Rizzoli and admit that I loved the banter and the story line. I thought it has some fun and quick comments together with a bit of mystery. To me it was one of the best shows I have seen this year. But then, it does not have much with which to compare when one looks at the moronic "reality" shows that currently ruin the nightly viewing. I know I am the odd one out, apparently, but I cannot find any enjoyment in the big brothers, survivors and similar trash. Thanks for at least one enjoyable show that is not Canadian at the moment. Worst part is our local station has taken it off the air so I await the series being released on DVD and I will watch it without the adds. Loved both female leads too. Hope it has many more seasons to go and keeps up the good story lines.

…

Expand

I thought I would really like this show because I'm a Angie Harmon fan. The thing that I don't like is what a complete idiot the Isles

I thought I would really like this show because I'm a Angie Harmon fan. The thing that I don't like is what a complete idiot the Isles character is. She is totally annoying. The two women in the books were intelligent, now only Rizolli has any smarts. Please, give Isles a brain, stop having her act like she's a moron.

…

Expand

What an insulting ending - I generally liked the show eventhough Isles is portrayed as the village idiot - trying to copy Bones I think but

What an insulting ending - I generally liked the show eventhough Isles is portrayed as the village idiot - trying to copy Bones I think but why do producers feel they have to give us a "cliff hanger" to get us back.
We are either going to watch the show or we are not. This unrealistic ending was insulting.

…

Expand

Not a bad show, though it's less of a police procedural show and focuses more on the personality of the characters. Unlike shows such as Law

Not a bad show, though it's less of a police procedural show and focuses more on the personality of the characters. Unlike shows such as Law and Order, this show really shows little evidence to the given case. In Law and Order, you can possibly guess who is the culprit based on evidence. In Rizzoli&Isles, the real murderer isn't revealed until the very end and so the little evidence they do revealed is rather meaningless. Nevertheless, the show is still amusing and quite interesting.

…

Expand

Really fun to watch show, very interesting, I like the characters and how deep they are so to speak (as in well fleshed out and developed,

Really fun to watch show, very interesting, I like the characters and how deep they are so to speak (as in well fleshed out and developed, unique, good back stories, actors/actresses representing them, etc). However, I feel at points the drama can become a bit too much and I find myself wanting the show to focus more on the case versus the side drama of the characters but even so, it still gives you the chance to at least get to know a little more about the characters.... so I suppose even a little excessive drama is necessary so it's not super dry cut like some other cop shows tend to be. BTW Jane is a badass as is Maura....

…

Expand

Loved the books. The TV series is almost as good and captures some of the clever characters from the stories. I think the actors nailed their

Loved the books. The TV series is almost as good and captures some of the clever characters from the stories. I think the actors nailed their characters. Highly recommend the books, the TV show is also watchable and does justice despite the liberties it takes.

…

Expand

I watched the first episode, and the main character, Rizzoli, conveniently manages to escape from some criminals, and then proceeds to shoot

I watched the first episode, and the main character, Rizzoli, conveniently manages to escape from some criminals, and then proceeds to shoot an unarmed criminal as he is laying on the ground. In the second episode, she assaults another unarmed perpetrator with a metal pipe. In the third episode, she blackmails a school administrator into giving a student a scholarship. I don't find Angie Harmon's semi-dirty cop who always seems to have the keys to solving the case fall into her lap a compelling main character. The fashionista forensic scientist is attractive, but not believable.

The writing is below average. The characters and situations are far-fetched.

…

Expand