Network:

NBC

Series Premiere Date:

May 11, 2014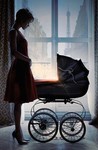 Starring:

Jason Isaacs

,

Christina Cole

,

Patrick J. Adams

Summary:

Rosemary Woodhouse (Zoe Saldana) becomes suspicious of her husband and neighbors intentions toward her unborn child after moving into an apartment in Paris in this adaptation of Ira Levin's novel of the same name (it was also made into a feature film in 1968).

Genre(s):

Drama

,

Movie/Mini-Series

,

Horror
Show Type:

Mini-Series

Season 1 premiere date:

May 11, 2014

Episode Length:

120
Please enter your birth date to watch this video:
You are not allowed to view this material at this time.
Rosemary's Baby bends to current fashions, and, accordingly, is more straightforward and much gorier than the original film. But partly because the story has been so altered, it still has mystery and suspense.

Saldana carries the full load throughout. Her skepticism grows--as does her performance--in tandem with her belly before it all boils over into a full-out escape plan.

The miniseries is often visually striking, with helmer Agnieszka Holland delivering stylish, cinematic work. But the new script also undermines her mood-setting efforts with cheap shock tactics.

NBC's Rosemary's Baby, which premieres Sunday night and finishes up on Thursday, is a not-great remake, but it is also a not-entirely-horrible miniseries, a beneficiary of the soft standards of low expectations.

The new Rosemary's Baby is, at best, a glossy, flat reminder that there are better versions of this story readily available. At worst, it's just flat.

Steeped in gore but deprived of atmosphere, this update on the Satanic classic suffers from its contemporary setting and attendant improvements in obstetrics, while feeling closer in tone to a remake of "The Omen" than of its namesake.

So much of this remake loses the original's subtlety (no doubt decades of more pointed horror movies have taken their toll) that outside of the aforementioned three worthwhile elements [Paris, Zoe Saldana, and Zoe Saldana in her underwear] everything seems to be a waste of time.
so far creator, director Agnieszka Holland presents a whole new genreation + new vision = a remake to Roman Polaniski's version of the

so far creator, director Agnieszka Holland presents a whole new genreation + new vision = a remake to Roman Polaniski's version of the project . So far people , critics are not liking this because its not like this because it does not led to the Original. but this show is wonderful and brilliant Grade A+

…

Expand

Definitely worth watching. If you belong to the general category of TV audience which seeks quality and cause and effect reasons to watch

Definitely worth watching. If you belong to the general category of TV audience which seeks quality and cause and effect reasons to watch series, then see it. Nice attempt.

…

Expand

Remaking one of the great films (not just horror) of all time is not a very good idea, and almost certainly was going to be met with

Remaking one of the great films (not just horror) of all time is not a very good idea, and almost certainly was going to be met with resistance and negative feedback and groans of lack of imagination nowadays. But "Rosemary's Baby" does present some interest as a modern updated take on the original 60's set story.

How does the story and Rosemary's actions change in the modern world? What with the internet and cell phones and instant information, and maybe most importantly, a strong independent "modern" woman. The casting of Zoe Saldana as Rosemary, famous for her tough as nails action heroines she's been known to play, would seem to suggest this.

None of this means anything however. The movie does open with Rosemary chasing down a burglar, resulting in a cop calling her brave and reckless, suggesting he needs more cops like her. Yet this leads nowhere. Never again does Rosemary do anything rash or without someone's permission. If the movie were to suggest that her independence had been taken from her, then yes maybe that would be interesting but that's not what's here.

Instead we get a basic retread, expanded upon here and with some added gore there, with a fresh city that really amounts to nothing other than some French accents. Rosemary doesn't every really feel out of place here, except one time near the beginning when she suggest that she can't stay at a party because everyone is speaking French. But then everyone speaks English and that's that. Everything is plot contrivance without any new raison d'etre (I had to). Much like the recent wasted attempt at a "Carrie" remake...

…

Expand

OK, so Agnieska Holland ain't the world's greatest director but she has made at least two very good films, EUROPA, EUROPA and SECRET GARDEN,

OK, so Agnieska Holland ain't the world's greatest director but she has made at least two very good films, EUROPA, EUROPA and SECRET GARDEN, plus one that really dazzled me, OLIVIER, OLIVIER. But this ROSEMARY is just a flat old dud. Tons of unnecessary changes that totally undermine all the suspense. The film looks like any typical USA film or bland TV series on the CW. One very nice performance from Carole Bouquet who is very different from Ruth Gordon in Polanski's masterpiece. Zoe Saldana is no Mia Farrow but she is very sympathetic but it's as if the filmmakers are embarrassed to use her in any interesting way. Adding to this feeling is that it's 4 hours long with commercials and it feels rushed!

…

Collapse

Awful writing, slowly paced, I feel that they could have easily condensed Rosemary's Baby into a single "episode", but for whatever reason

Awful writing, slowly paced, I feel that they could have easily condensed Rosemary's Baby into a single "episode", but for whatever reason they felt inclined to just spread it as thin as possible.

I think what made it the worst was the female lead's portrayal as a sniveling coward. For someone who is worried about the well being of their "baby" and the issues she has, she sure lets an awful lot of people force her into positions she rather wouldn't. She mate it almost un-watchable.

I would have ended it differently, having Rosemary throw herself and the baby to their deaths, but I guess that's just me.

…

Expand