Network:

ABC

Series Premiere Date:

Mar 7, 2006

Season #:

1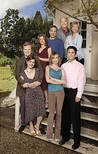 Starring:

Trevor Einhorn, Max Gail, Fred Goss

Summary:

This ensemble, semi-improvised comedy from Fred Goss ("Significant Others") follows the trials and tribulations of an extended family.

Genre(s):

Comedy
Show Type:

Ended

Season 1 premiere date:

Mar 7, 2006

Episode Length:

30

Air Time:

09:00 PM
Sons & Daughters offers such a fresh, funny take on family life that it could be a landmark comedy.

It has a sprawling cast, but even before the pilot is over, because of the clever way it's written, directed and acted, you'll know, and like, every single character.

It's very well-acted and meanwhile, when it can stand it, kind of tender, although it's far more interested in "Curb"-like moments of uncomfortable confrontation.

The improv style when done well, as it is here, doesn't generate sidesplitting laughter, but it does produce a steady stream of deliciously enjoyable moments.

"Sons & Daughters" turns the banalities of family life upside down and inside out and finds something new, and even something cherishable, in many of them.

"Sons & Daughters" is a milder, more humane version of Fox's canceled "Arrested Development" -- it milks the humor of absurd people and brutally frank conversation.

Most of the cast stammers its way through sentences as if awaiting a lightning strike of inspiration. When it doesn't come, the actors have to say something anyway, and that meandering search for structure is what winds up filling 30 shapeless minutes.
I guess you either love it or hate it -- I loved it. Laughed til tears came -- hope future shows fulfill its promise.

Loved it because it's candid!

I think it is very funny.

I love Sons & Daughters. I really hope they are not cancelling it? Does anyone know? I've really missed it the last couple weeks. The

characters make our family laugh out LOUD!

…

Expand

A great show, should be picked up on another network, or even cable. Only new show I've been watching on TV this year.

Love it and others apparently agree. This show can only get better. Improv characters usually grow and build and get funnier along the way.

Ratings will come as those who find and like the show will definitly stick around for more. The haters can watch another Doc show or whatever.

…

Expand

Show sucked. Up against The Unit, doesn't have a prayer. Actually, pretty much has no prayer, regardless of what it's up against.