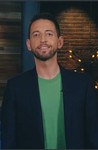 Summary:

Hosted by comedian Neal Brennan, the talk show inspired by New York Magazine's Approval Matrix page, features a panel of celebrities and comedians discussing weekly news and entertainment items.

Genre(s):

Comedy

,

Talk & Interview
Season 1 premiere date:

Aug 11, 2014

Air Time:

11:00 PM
Provocative and occasionally insightful--except with Whitney Cummings brays with laughter--The Approval Matrix is like "The McLaughlin Group" for pop culture junkies.

Rather than have the opportunity to respond to events in real time, the show is left to tackle broad themes like fame and television's golden age. And often, the conversations are edited in a way that appears to clip discourse short just as it takes off.

Things get wonky but not always interesting--middlebrow, really.

Everyone talks fast, suspecting that if they pause to breathe, someone else will jump in. But it's not too chaotic, and most of The Approval Matrix comes off as a discussion actual people could really have.

An easily digestible guide to pop culture that can make any water-cooler conversation more interesting (or interminable). But this television adaptation--if tonight's premiere is representative--does not work.
Desperate attempt to emulate the Chelsea Handler show... She's doing her show until the end of the month, after which there will be a void in

Desperate attempt to emulate the Chelsea Handler show... She's doing her show until the end of the month, after which there will be a void in our nightly laughter quota -- this show won't fill it :-(

…

Expand