Network:

CBS

Series Premiere Date:

Sep 24, 2007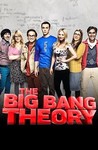 Starring:

Johnny Galecki

,

Kaley Cuoco

,

Jim Parsons

Summary:

Created by writer/producers Chuck Lorre (of Two and a Half Men) and Bill Prady (of Gilmore Girls) comes The Big Bang Theory, a sitcom that shows what happens when hyperintelligent roommates/physicists Sheldon and Leonard meet Penny, a beautiful woman moving in next door--and realize they

Created by writer/producers Chuck Lorre (of Two and a Half Men) and Bill Prady (of Gilmore Girls) comes The Big Bang Theory, a sitcom that shows what happens when hyperintelligent roommates/physicists Sheldon and Leonard meet Penny, a beautiful woman moving in next door--and realize they know next to nothing about life outside of the lab. Rounding out the crew are the smarmy Wolowitz, who thinks he's as sexy as he is brainy, and Koothrappali, who suffers from an inability to speak in the presence of a woman.
The show distinguishes itself by being unafraid to toss scientific references and technobabble into an otherwise standard sitcom, even employing a physicist to keep things accurate. In doing so, it allows Sheldon and Leonard to do for science what Frasier's Crane brothers did for fine dining, art, and opera.
Theme Song: "The History of Everything" by Barenaked Ladies

…

Collapse

Genre(s):

Comedy
Please enter your birth date to watch this video:
You are not allowed to view this material at this time.
Bialik manages to steal scenes from Parsons as if she's been with the crew since, well, the big bang.

As wonderful as Parsons and Sheldon certainly are, and as terrific as a Sheldon-centric episode like last week's can be, too much Sheldon would quickly become too much. We're not there yet, but it is one of those lines the writers should be careful not to cross.

The comic commentary may be poking gentle fun at nerds, but the real target of the show's sharp satire is the arbitrary, self-serving stupidity of mainstream culture.
geally great as ever sheldon and his friends is more cool and funny than ever i really like it. Leonard Penny Raj

geally great as ever sheldon and his friends is more cool and funny than ever i really like it. Leonard Penny Raj ,Howard,sheldon,amy,bernaddet,miss cooper

…

Expand

Amy's high resemblance of Sheldon and Bernadette's romance with Howard gave the show a completely new and positive vibe. Especially love the

Amy's high resemblance of Sheldon and Bernadette's romance with Howard gave the show a completely new and positive vibe. Especially love the interactions between Shamy!

…

Expand

I love this show! Its a really great comedy in a world of crap. All the actors in this show are great and the story lines are good too.

I love this show! Its a really great comedy in a world of crap. All the actors in this show are great and the story lines are good too. overall pretty awesome show, I recommend it to everyone!

…

Expand

'Big Bang' becomes more complicated yet more realistic, albeit it's a bunch of nerds who act like children. Unusual is how the Penny-Leonard

'Big Bang' becomes more complicated yet more realistic, albeit it's a bunch of nerds who act like children. Unusual is how the Penny-Leonard situation becomes more complex and cheesy just to attract a female audience, which I don't particularly admire. But that's how you get ratings. Let bigons be bigons.

…

Expand

This season wasn't as good as the previous ones. There was way too much sexuality, and I don't like it. If I want sexuality I'll pick a

This season wasn't as good as the previous ones. There was way too much sexuality, and I don't like it. If I want sexuality I'll pick a romantic movie with slight pornography. The Big Bang Theory is supposed to be a comedy show! I don't mind if there's a bit of romance, but this was just too much. And usually Sheldon is funny, but in this season he was blunt and had no humor at all.

Great season on behalf of the amusing parts, which were honestly very small and rare.

…

Expand

A little disappointing. Usually, The Big Bang Theory is a hilarious sitcom, but this time, the series premiere just fell flat. Sheldon is

A little disappointing. Usually, The Big Bang Theory is a hilarious sitcom, but this time, the series premiere just fell flat. Sheldon is always funny, but Sheldon was just a sterotype nerd with no humor.

…

Expand

The Big Bang Theory is the kind of show that you really, really want to find funny, but you can't. That is not because of the writing or the

The Big Bang Theory is the kind of show that you really, really want to find funny, but you can't. That is not because of the writing or the acting, but because of the laugh track. The laugh track is torture to any sane person. If it's comedy, we don't need to be told when to laugh. It's almost like the producers think we are too stupid to get the jokes. But guess what, we get them. The laugh track takes this show that would be brilliant into the mediocrity of everything else on CBS.

…

Expand