Network:

CBS

Series Premiere Date:

Sep 26, 2013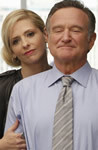 Starring:

Sarah Michelle Gellar

,

Hamish Linklater

,

Amanda Setton

Summary:

In his first TV sitcom starring role since Mork & Mindy ended in 1982, Robin Williams plays Simon Roberts, the unpredictable head of a Chicago advertising agency, where he works with his more focused daughter Sydney (Sarah Michelle Gellar). James Wolk (Mad Men) and Hamish Linklater also star

In his first TV sitcom starring role since Mork & Mindy ended in 1982, Robin Williams plays Simon Roberts, the unpredictable head of a Chicago advertising agency, where he works with his more focused daughter Sydney (Sarah Michelle Gellar). James Wolk (Mad Men) and Hamish Linklater also star for creator David E. Kelley (Ally McBeal, Boston Legal).

…

Expand

Genre(s):

Comedy
Creator:

David E. Kelley

Season 1 premiere date:

Sep 26, 2013

Episode Length:

30
Please enter your birth date to watch this video:
You are not allowed to view this material at this time.
[The Crazy Ones and The Michael J. Fox Show] have great, always likable stars heading up solid ensemble casts in well-written and mostly plausible shows. Who could ask for anything more?

Williams's humming energy is charming (and more softly winsome than it used to be.) The challenge is to surround him with actors with enough skill to play off or with him. Gellar, as his daughter, doesn't quite pull it off. Hamish Linklater, as an art director, does. [4 Nov 2013]

Williams signature brand of comedy and big personality dominate the show, but with an ensemble of Sarah Michelle Gellar, James Wolk and Hamish Linklater, it's less one-note than expected.

The talented cast and upbeat pilot work in the series' favor, but if the half-hour is to be more than a platform for Williams' improv, the story will have to go deeper. And make us care.

It shows the most potential as a buddy comedy focused on Mr. Williams and Mr. Wolk. By comparison, Ms. Gellar's character is a wet blanket.

The episode has the propulsive pace of a CBS hour-long, but that can leave the fun parts of a single-camera sitcom (like the jokes) behind in its dust. Above all, The Crazy Ones is safe.

The whole thing is so poorly conceived and executed.... It's a misfire for an undeniable TV talent.
The pilot was really fast paced, the 20 minutes felt like 5 but I already love all the characters. Definitely Ally Mc Beal 2.0. A bunch of

The pilot was really fast paced, the 20 minutes felt like 5 but I already love all the characters. Definitely Ally Mc Beal 2.0. A bunch of Crazy people with a lot of heart. Can't hardly wait to know them a little bit more and to explore their universe. All the actors have great chemistry together especially Robin Williams and Sarah Michelle Gellar. James Wolk was a nice revelation and on top of that Kelly Clarkson was hilarious. Yep, this is great TV. The show has so much potential, I hope the writers will meet my expectations. The next episodes should focus a little bit more on the father daughter relationship. This is where, IMO, The Crazy Ones could stand out of the crowd and became a nice "dramedy".

…

Expand

I absolutely love this show it's witty, funny and all around entertaining. I would recommend it to anyone that enjoys clever comedy. Robin

I absolutely love this show it's witty, funny and all around entertaining. I would recommend it to anyone that enjoys clever comedy. Robin Williams is of course fantastic.

…

Expand

The Crazy Ones is tons of fun. 20 minute episodes feel quick but every moment is entertaining. I can see some opportunities for improvement,

The Crazy Ones is tons of fun. 20 minute episodes feel quick but every moment is entertaining. I can see some opportunities for improvement, but Robin Williams is as good as it gets for fast-paced wit and lead characters. With any luck, The Crazy Ones will be able to create something truly special over time. As is, the show is solid, even if it's a bit too immediate or a tad shallow at times.

…

Collapse

Possibility of becoming a very good show if they can reduce the drag of obvious product placement, and keep the amount of improv reasonable.

Possibility of becoming a very good show if they can reduce the drag of obvious product placement, and keep the amount of improv reasonable.

The actors work together well, giving believability to the story lines.

I would say the writing is good, but I don't know just how much writing there is for this show. It appears to be [mostly] made up as they go along. So far that has worked pretty well, but they have to avoid it being an improv show.

Improv is funnier and more enjoyable when it appears unexpected.

…

Expand

I have really high hopes for this show. The first episode was really funny and witty.
My only problem was Sarah Michelle Gellar, I didn'tI have really high hopes for this show. The first episode was really funny and witty.
My only problem was Sarah Michelle Gellar, I didn't find her funny by any means. I this show goes down it will probably be because of her.

…

Expand

I LOVE Robin Williams, that is, "Wacky/Loony Tunes/Improvisational Comic Extraordinaire" Robin Williams. The SHOW "The Crazy Ones" does NOT

I LOVE Robin Williams, that is, "Wacky/Loony Tunes/Improvisational Comic Extraordinaire" Robin Williams. The SHOW "The Crazy Ones" does NOT provide the appropriate stage for Robin to SHINE—the way that our King of Clowns can shine. Watched the first show: 2 minute of Vintage Robin; 18 minutes of something else. There was simply too much "drama" (as opposed to "comedy"). Because of Robin, I expected something similar to "I Love Lucy" "The Carol Burnett Show" "3rd Rock from the Sun", "Seinfeld" or, to name a current show, "The Big Bang theory." In sum: I expected Filet Mignon—I got served baloney. Oh, the SECOND show? I watched 3 minutes, then switched channels. I just didn't have the guts to face another big disappointment.

…

Expand

This show is terrible. The actors are good, however the writing and plot line is horrible. I could not even get through the first episode. I

This show is terrible. The actors are good, however the writing and plot line is horrible. I could not even get through the first episode. I feel the whole work concept is very boring and poorly written and even after watching the first episode I was not completely sure what their job was. Not funny

…

Expand