Network:

FOX

Series Premiere Date:

Jan 21, 2013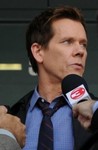 Starring:

Kevin Bacon

,

Natalie Zea

,

James Purefoy

Summary:

Season two jumps ahead a year, but a new spate of killings draws Ryan back into the field.

Genre(s):

Drama

,

Action & Adventure

,

Suspense
Creator:

Kevin Williamson

Season 2 premiere date:

Jan 19, 2014

Episode Length:

60
Please enter your birth date to watch this video:
You are not allowed to view this material at this time.
Here's the best thing about the second season premiere of The Following: Kevin Bacon finally looks like he's having a little fun.... Bacon and Hardy are in on the joke.

The sneak peak is sometimes flat and sorta dumb yet so dementedly busy-busy-busy that it's actually creepy, twisty fun. [17 Jan 2014, p.63]

A whole new crop of crazies populate the sophomore season, but the murder and mayhem is laced with a been-there- done-that feel.

For a show so bent on shock value, it has to this point failed to surprise much.

A helpful lapse of time can't fully right the ship or smooth over the plausibility-straining aspects of this serial-killer-and-his-adoring-acolytes conceit.

Kevin Bacon is just woefully underutilized here.... None of this show feels or sounds real. Not one beat. Not the plotting or the characters.

Sorry to say that from the evidence of the season premiere, not a lot has changed. Morbid curiosity may keep me following this bloody cat-and-mouse horror show for a while longer, but not at the risk of murdering what few brain cells I have left.
I tend to agree with most overall metacritic conclusions, both critic and user reviews; however, this one I completely disagree with. This

I tend to agree with most overall metacritic conclusions, both critic and user reviews; however, this one I completely disagree with. This season has been excellent, as was last season. I grant that it isn't an exceptionally intelligent show such as breaking bad or true detective but it's amazing entertainment. The drama is excellent, the characters are interesting, and the show is engaging. I am extremely impressed with Sam Underwood's acting. I like intelligent shows. I like shows with subtext and meaning. But more than anything I like shows that are entertaining, and that is exactly what this.

…

Expand

It's certainly not better than season 1, but it's still good. Every few episodes, something happens that changes the plot and it can be

It's certainly not better than season 1, but it's still good. Every few episodes, something happens that changes the plot and it can be confusing if you miss an episode, but there's still a good storyline. All the killing and disturbing situations are still present in this season. Overall it's very good and worth watching.

…

Expand

Does the second season live up to the quality of the first season? Unfortunately not. However, the series is still interesting to watch and is

Does the second season live up to the quality of the first season? Unfortunately not. However, the series is still interesting to watch and is still bent on complete shock factor.

…

Expand

I actually enjoyed the First Season of The Following even though it definitely had it's ruff edges and some of the elements were really

I actually enjoyed the First Season of The Following even though it definitely had it's ruff edges and some of the elements were really underwhelming but it was a good show none the same. Season 2 though just wasn't good. I have only watched the first half of Season 2 before I lost interest. This is because it was going nowhere and the same main point of the first season was happening again, Joe building his new following from the remains of his old one and I just couldn't get into it. The first season is certainly worth your time. I just wish it could have run for one season as that was what I thought it would be when I finished the last episode but then they announced Season 2 and I knew it wasn't going to be any good and it feels like such a waste of time. Now there might be a third season. I wish they could have made it a limited run then it would be perfect but going past one season has ruined the show for me and it does sadden me to say this as it had a lot of potential.

…

Expand

This review contains spoilers

, click expand to view

.

I'm a HUGE Kevin Bacon fan and watched last season religiously. Unfortunately, they killed most of the characters I found compelling and intriguing. I've watched the first two episodes this season and just can't get into it this time around. I'm not as interested in the new characters. I'm also a woman and hated they killed off both Claire and the female detective - they could have at least left me with one strong, relatable female character. So disappointed after such high hopes.

…

Expand

This is a mind-numbingly stupid mess. Any literate person should take it as an insult to his or her intelligence. It seems to be aimed at

This is a mind-numbingly stupid mess. Any literate person should take it as an insult to his or her intelligence. It seems to be aimed at drooling, brain-dead yokels who've never read a single book on poetry or law enforcement or psychology or cults. And judging by its ratings, that's a disconcertingly high proportion of the American public.

…

Expand

Every single character is so obtuse and ridiculous. And they are all MORONS. The show was half decent in the first season, and it is just

Every single character is so obtuse and ridiculous. And they are all MORONS. The show was half decent in the first season, and it is just utterly ridiculous now. The writing is so terrible I can't even stand it. I so desperately want someone to slap Claire every time she opens her stupid mouth. Horrible. Just horrible.

…

Expand