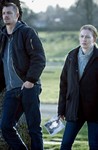 Season 2 premiere date:

Apr 1, 2012

Episode Length:

60
Please enter your birth date to watch this video:
You are not allowed to view this material at this time.
Few television shows are as addictive as this pensive, wonderfully paced suspenser.

This isn't a procedural with a neat answer at the end of each episode. But it is involving.

My own enjoyment of The Killing begins and ends with the gloom so brilliantly conveyed by its pace and performances.

Notwithstanding the cat-and-mouse plotting, we watch The Killing because of the superb writing and attention to character detail in the scripts by series executive producer Veena Sud and others.

Sarah isn't easy to warm up to, and neither is The Killing, though I respect its moody insistence at depicting even the most sympathetic figures in the worst possible light.

The good news is that Sunday's two-hour opener answers several key questions in relatively rapid fashion and in ways that don't seem totally unreasonable. The bad news is that it also puts Sarah back at square one, and therein lies the problem.

It's not nearly as highbrow and well-constructed as it needs to be, and it's far too serious and plodding to be a zippy break from reality.
I'm enjoying this season just as much as last year. What's striking is the chemistry that has developed between Holder and LInden. We haven't

I'm enjoying this season just as much as last year. What's striking is the chemistry that has developed between Holder and LInden. We haven't seen on-screen chemistry like this since Mulder and Scully. One last note, whenever I'm watching this show I'm reminded why I've always hated shows like CSI or NCIS or whatever ... They lack grittiness, which this show has in spades. Fantastic show, don't miss out

…

Expand

I for one am looking forward to seeing Mitch come back, but I do think the Larsen family dynamic is engrossing around Stan in the mean time,

I for one am looking forward to seeing Mitch come back, but I do think the Larsen family dynamic is engrossing around Stan in the mean time, he is a great menacing protective bear of a character and coping with the absence of the Mitch is mirrored in subtle, well delivered reactions from the kids Denny and Tom, and is very interesting to watch. I love what has evolved with Holder as well - Certainly pleasantly pleased so far!

…

Expand

This show had us hooked from the first episode until the finale.
It took you on many turns and twists and felt the ending was veryThis show had us hooked from the first episode until the finale.
It took you on many turns and twists and felt the ending was very satisfying. This is definitely a highly addicting TV series and truly hope they have another season because now that it's over, I feel like I definitely want to see more.

…

Expand

Larsen' killer not being revealed will try the patience of most viewers, who are unfamiliar with this kind of storytelling. In season two more

Larsen' killer not being revealed will try the patience of most viewers, who are unfamiliar with this kind of storytelling. In season two more characters are fleshed out, Sarah Linden too far into the case now to quit elects to stay on board and find the true killer. After the events in season one. Linden wonders who she can trust and must start looking at the case from a new angle and figure out what she missed. An how far this thing really goes. The Cast is just as good as in season one but the same cannot be said of the writing.

…

Expand

The pacing in season 2 again treats the audience like children. you find out absolutely nothing of importance until the last 2 minutes of

The pacing in season 2 again treats the audience like children. you find out absolutely nothing of importance until the last 2 minutes of every episode, and the importance level of those little perfunctory reveals is lessening more and more with every episode. the acting is passable in this season moreso than the first, and every now and then they pull an interesting cinematography technique. to the killing's credit i now am finally invested in the plot. i've turned against nearly every character in the story, but i am coming back every week to watch more of it. *will update at the end of the season

…

Expand

8 for season 1, 6 for season 2. This would be a great show if not for the miscasting of the lead. The perpetual scowl on her miserable face

8 for season 1, 6 for season 2. This would be a great show if not for the miscasting of the lead. The perpetual scowl on her miserable face becomes not only tiresome but relentlessly unrealistic. Sure most all network cop shows have ridiculous female super models playing detectives, so you can understand the insight to go the other way. But this goes so far the other way as to wind up even worse off. Certainly more gratingly annoying. The actress seems attractive out of character in AMC promos, but here she waddles around with a hideous 1973 style pony tail appearing to be about to burst into tears in every other scene. Maybe one smile per season? The character is supposed to be mentally unbalanced which is not very realistic to begin with for a detective, but a short little woman who puts her head down and meekly hobbles out like a little disturbed duck when dismissed (which happens way too often in the story)? That's a hard nose detective?
That is NOT realistic. That is NOT good acting. That is NOT entertaining TV.
Her partner is nearly as annoying as a sloppy eating, juvenile, silly jive talking, unprofessional junkie detective. An actor grabbing for something just to stand out.
Of course the feminist Nazi creator and moron producers pat themselves on the back for doing something different but they being not nearly as smart as they think they are may not realize they blew it by overlooking this.
There is also a MAJOR glaring, absurdity of time frame in season 2 that defies any plausibility whatsoever. Look if you're going to set up a one day per episode chronology then stick to the reality of what's possible within that, or DON'T DO IT FOR THE SAKE OF THE STUPID GIMMICK!
To top it off the DVD menus (on at least the second season) are utterly unclear as to the order of the episodes. The stupid amateur who designed them should never work again. Anyone so dumb as not to understand viewers' intuitive navigation on something as simple as 4 episode titles without numbers arranged on a menu card that can be read in 2 different orders is not smart enough to work in the industry in any capacity.
And the Fox jackasses who approved the DVD should all be fired as well.

…

Expand

I'm done with this show. I don't care about any of the characters anymore, I'm tired of the never-ending rain and fog that seems to inhabit

I'm done with this show. I don't care about any of the characters anymore, I'm tired of the never-ending rain and fog that seems to inhabit Seattle (or at least "Seattle as Envisioned by Hollywood"), I can't bear to watch another weepy, mournful scene with the Larson family or an angst ridden exchange between Linden and Jack, I DON'T GIVE A **** ABOUT THE SEATTLE MAYORAL RACE (and neither does anyone else, even people who live in Seattle) and I have lost all interest in the Rosie Larson case. I don't think Rosie Larson even knows who killed Rosie Larson. Veena Sud blew it. They should have revealed the murderer at the end of season 1 and started season 2 with a fresh case. I know, I know, unveiling the mystery at the logical point of conclusion is such a tired concept, but it's what the fans wanted- and what is a show without its fans? To expect people to stick around for another long, drawn out season based around the same exact case (WHICH WASN'T THAT INTERESTING IN THE FIRST PLACE) is ludicrous. I'm throwing in the towel. Thank God for Game of Thrones.

…

Collapse