Network:

ABC

Series Premiere Date:

Oct 3, 2017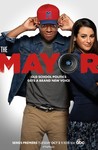 Summary:

27-year-old rapper Courtney Rose (Brandon Micheal Hall) runs for mayor to promote his mixtape and winds up winning the election in this comedy from Jeremy Bronson and Daveed Diggs.

Genre(s):

Comedy

,

Music
Season 1 premiere date:

Oct 3, 2017

Episode Length:

30
The quality of the concept, writing and performances in each show ["Kevin (Probably) Saves the World" and "The Mayor"] makes the leap an easy one. ... [Brandon Michael] Hall is terrific in the pilot.

The cast is a winner, and the pilot marks a good start for what looks to be a productive first term in office.

What sets The Mayor apart, though, is its conviction. It's the kind of earnestness not seen since Parks and Recreation. ... Hall gives a winning performance as Courtney that makes it easy to believe he's more thoughtful than he seems. ... All in all, it's one of the more promising debuts of the fall TV season.

ABC's The Mayor might seem like a small-scale version of another duly elected leader, but it's among the fall TV season's more promising series, with the disclaimer that the protagonist's shtick might begin to get old before he completes a season, much less a full term.

The degree to which the show succeeds will probably rest on how many viewers tune in and like what they see in Hall's brash, energetic performance.

The Mayor can be preachy and predictable, but is also spirited and reasonably amusing in this opening scene-setter. Hall brings considerable charisma to the lead role and Brown supplies the needed anchoring presence. Michele, the former Glee star, still seems to be finding her way, though, in a role that at the moment doesn't really fit her.

Too rushed, too unfunny, with hardly any music. At least Hall promises better times ahead.
The Mayor is the best new comedy this fall and it is the only one worth adding to your watch-list, although is not perfect. The pilot is

The Mayor is the best new comedy this fall and it is the only one worth adding to your watch-list, although is not perfect. The pilot is predictable and a little rushed.It is not a laugh-out-loud comedy, but the show will certainly put a smile on your face. Also, the cast led by Brandon Micheal Hall is a winner. All in all, The Mayor is the kind of show that fills you with optimism and makes you think that tomorrow will be better.

…

Expand

There is some promise with the premise of an African-American mayor being in charge of a small NorCal town; however, this show will be crushed

There is some promise with the premise of an African-American mayor being in charge of a small NorCal town; however, this show will be crushed under the weight of its too snappy, much too fast dialogue which is sometimes unintelligible and just plain unfunny. Seems the writers are over-caffeinated and trying hard for punctuated laughs when slowing it down a bit and leaving some breathing room for the actors to shine would be a better choice.

…

Expand