Network:

HBO

Series Premiere Date:

May 25, 2014

Season #:

1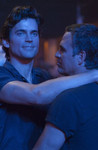 Summary:

Ryan Murphy's adaptation of Larry Kramer's Tony-winning play about the early days of the AIDS crisis. After seeing a friend succumb to a new disease killing gay men at the offices of Dr. Emma Brookner (Julia Roberts), Ned Weeks (Mark Ruffalo) seeks to organize more action to combat it, even

as his bluntness threatens to alienate people around him including his brother Ben (Alfred Molina), his lover Felix (Matt Bomer), and Bruce Niles (Taylor Kitsch), a closeted investment banker.

…

Expand

Genre(s):

Drama

,

Movie/Mini-Series
Show Type:

TV Movie

Season 1 premiere date:

May 25, 2014

Episode Length:

120

Air Time:

09:00 PM
The film has poetry and vitality, too, and its greatest virtue is that it seems not to give a damn if you approve of any of its creative choices as long as you connect with it emotionally and intellectually.

Ned and just about everyone else erupts in violent arguments, denunciations, accusations, counteraccusations, diatribes--these are searing, electrifying moments, furiously articulate and delivered with escalating passion. [2 Jun 2014, p.45]

The Normal Heart grows in poignancy as characters we've come to know are affected or afflicted by AIDS.

While a miniseries might have truly been something to behold--allowing the slow helplessness to really penetrate viewers, there's something to be said about making a big, loud noise and getting the message out--again. In that sense, both Murphy and Kramer do the play justice (as you would expect) and have created a powerful modern history reminder for those too young to understand the all-too-recent past.

Murphy is a fascinating dichotomy in that he works expertly with actors and actresses (even in a mess like "Eat Pray Love" and undeniably in every season of "AHS") and so the performances he draws from his inevitably-Emmy-winning cast play tug-of-war with his melodramatic leanings and, ultimately, win the fight enough to allow his film to resonate.

Ultimately, the good in Normal Heart outweighs the bad, which isn't always the case with Murphy's work. It's an important story packed with vivid individual moments, but with this material and these actors, it feels like it could be so much more than what it is.

The performances are literally shaky, from wavering accents to tremulous monologues, but the movie's such an overwhelming weepie that they fit right in.
Leave it ti HBO to produce the most important movie this year, The Normal Heart is brave, sweet and raw. Mark Ruffalo, Matt Bomer, Julia

Roberts and Joe Mantello shine and deliver Oscar worthy performances. Taylor Kitsch, Jim parsons and Alfred Molina are amazing and will also fight for the Emmy´s, there are great supporting cast surprises like BD Wong, Danielle Ferland and Stephen Spinella.

…

Expand

I'm not sure why Roberts or Ruffalo are getting so much flack -- this movie is an adaptation of a play that is largely polemical. You should

expect lengthy monologues. I thought both brought a relentlessness and emotionality to their roles that the characters required. They weren't meant to be polished, Sorkin-esque banter -- they were supposed to be charged and shaky and uneven. That takes much more acting talent than the perfectly delivered speech.

Thought the film itself was a powerful reminder of our shameful inaction and the social stigma that cost so many lives.

…

Expand

I thought this would be worse, I expected some stellar turns by actors, a succession of tearjerking moments and vague if overall interesting

drama, and for the first half hour it seemed it could go near there, so I was surprised to find drama, political and otherwise, was the star of this movie. Ned Weeks is a pain in the ass, but a necessary one, he's probably right about everything. He's got some very fine lines and there's a very solid scene when he confronts his brother; the monologue by Marcus, during the second half of the movie, is terrific. Weeks courting of felix is endearingly clumsy and very funny. It's to the director's credit that the dramatic qualities of the text surface naturally most of the time. The actors deserve some kind of ensemble prize, although Alfred Molina does go a little hammy for the last ten minutes or so, he doesn't cry good, and frankly, perhaps he shouldn't have cried at all, he's very fine for the rest of the movie, though. Anyway, it doesn't marr one bit the truthfulness and heartbreaking precision of the feelings portrayed by Bomer and Ruffalo in Ned and Felix's last scene together. Beyond all that, The Normal Heart, contains a moment of pure magic: there's a party related to a fundraising campaing in a disco, everybody is dancing to gloria Gaynor's I will survive and things like that and then, out of nowhere, comes the sound of a piano, just one, and a very large male chorus starts to sing The Man I Love, sounding almost a capella, all the guys are now dancing cheek to cheek, the scene ends when Ned and Felix go out and walk down some kind of peer with the New York landscape in the background, like an old Hollywood movie.

…

Expand

Wow. I am so glad HBO made this movie.

This political gay love story about HIV/AIDS just gave me so much feels and I never expected that, mainly because of the feeling of losing someone you love the most to AIDS sucks really bad.

The performances from the cast are surely Emmy worthy. My favorite has to be when Dr. Emma Brookner (played by Julia Roberts) shouts at the mayor of New York on how she is frustrated and insulted that he won't even give money to fund for AIDS research. I will be really surprised if she isn't even nominated for an Emmy.

The story was great as well. I learned many things about the AIDS epidemic in the early 80s because of this movie. But there is one plot hole I noticed. If Felix Turner (played by Matt Bomer) has AIDS and he had sex with Ned Weeks (played by Mark Ruffalo), shouldn't he be affected by it? Did Felix had AIDS after that? These questions weren't answered.

But, the directing and the cinematography is great as well. I am glad Ryan Murphy directed this, because he is a great director. Just give him a big budget and he will do it flawlessly.

Overall, this HBO movie will surely teach the young generation about AIDS, touch the viewer's hearts and meanwhile, grabbing the Emmy spotlight.

…

Expand

Despite some good performances from Roberts, Ruffalo and Matt B... the movie falls flat. Yes - it's extremely emotional given the subject

matter... and the cause in the fight against aids... so as a political and social statement for the gay community it succeeds, but as a film, it just doesn't jive. There's no real story arc here; we are too detached from some of the characters to feel anything; and ruffallo's charcter (larry kramer) is just too much of an angry fanatic to like. He alienates the members of GMHC, and he sort of alienated me from this film. Again, kudos to Murphy who did a great job with the material, to the cast (except for Taylor k) who did a great job, and to Pitt/Kramer for getting the film made! I think Philadelphia did a much better job at telling the story of the aids crisis - it gave us characters we could relate to and fall in love with... and the story had a place to go. Normal Heart fails in that respect - big time.

…

Expand

Let's be clear, the story of the inaction of the government during the AIDS crisis needs to be told. I am a gay man and I loved this play

when I saw it on stage. However, the acting in this adaption is incredibly sub-par. I couldn't take it within 10 minutes of starting to watch. The supporting characters were alright but the actor that represented Larry Kramer (the male lead) delivered each line in a horrible monotone. Everytime he spoke I rolled my eyes and mocked his delivery. Julia Roberts was just as bad. I gave it a 1 as I'm sure many were unaware of this history (I lived through it)

…

Expand
Published:

August 25, 2014

Find a list of this year's Emmy winners, see how accurate expert and user predictions turned out to be, and read reviews of the broadcast (including an assessment of Seth Meyers as host).

Our look back at the 2013-14 television season includes all of the year's award winners as well as the season's highest-scoring programs.