Network:

Lifetime

Series Premiere Date:

Mar 8, 2014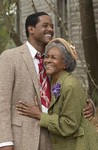 Summary:

Carrie Watts (Cicely Tyson) is a widow frustrated with living in Houston with her son Ludie (Blair Underwood) and his wife, Jessie Mae (Vanessa Williams). Forbidden to drive or travel by herself, she plans an escape to make the final journey to her hometown of Bountiful in this adaption of

Carrie Watts (Cicely Tyson) is a widow frustrated with living in Houston with her son Ludie (Blair Underwood) and his wife, Jessie Mae (Vanessa Williams). Forbidden to drive or travel by herself, she plans an escape to make the final journey to her hometown of Bountiful in this adaption of 2013 Broadway revival of Horton Foote's play.

…

Expand

Genre(s):

Drama

,

Movie/Mini-Series
Show Type:

TV Movie

Season 1 premiere date:

Mar 8, 2014

Episode Length:

120
It's an exquisitely rendered and masterfully acted film on Lifetime.... Underwood and Williams are eloquent and fine, but this is Carrie's story. With her shining ageless eyes and effortless physical grace, Tyson is quietly but relentlessly hypnotic in all she does.

Tyson elevates this character into a prism through which passes the span of existence.... You will be sighing for days. [10 Mar 2014, p.48]

Horton Foote's 1953 teleplay proves as durable as ever in this transfer of 2013's hit Broadway revival. Cicely Tyson is as fiercely magnetic on a small screen. [7 Mar 2014, p.62]

The Trip to Bountiful hits all the right sweet and nostalgic notes without becoming saccharine or overdone.

As fables go, Bountiful is fairly uneventful yet unexpectedly affecting, thanks to Tyson's unsparing honesty.

It's focused on Mrs. Watts' personal journey home, her escape from the small bubble she's come to know. As it is, it's wonderful to watch Tyson make that escape.