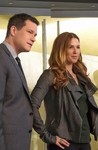 Starring:

Tawny Cypress

,

Jane Curtin

,

Kathy Najimy

Summary:

Former police detective Carrie Wells (Poppy Montgomery), who struggles with hyperthymesia--the ability to remember everything--is recruited by her detective ex-boyfriend (Dylan Walsh) to help the NYPD with one more case.

Genre(s):

Drama
Season 1 premiere date:

Sep 20, 2011

Episode Length:

60
Please enter your birth date to watch this video:
You are not allowed to view this material at this time.
Unforgettable was on no one's list as one of the "buzzier" fall pilots, but that doesn't mean it's not one of the better ones. It is.

Montgomery's last gig on CBS, "Without a Trace," lasted seven years. Unforgettable has a ways to go, but it's got a lot of the right stuff.

It's not a great series, but it looks to be a solidly commercial one.

Unforgettable is completely forgettable because it brings nothing new to the increasingly creaky crime procedural. CBS has gone to that well over and over, and, credit to them, it's worked.

It's a fairly standard crime procedural whose hook doesn't really add much--and actually seems like it could be an obstacle further down the road.

The actual version of Unforgettable is so plodding and serious.

Unforgettable is a show cobbled together from the once good bits of once good shows.
I loved this show!! Participated in trying to get it renewed, twice...NOW, A&E has canceled it with the shooting of a main character, just as

I loved this show!! Participated in trying to get it renewed, twice...NOW, A&E has canceled it with the shooting of a main character, just as they did with The Glades. I used to watch A&E as one of my "go-to" networks. They have proven they cannot be trusted to do right by a series and I will never get involved with any of their shows again.

…

Expand

Another crime drama that I won't want to miss. Poppy does a wonderful job acting out her role as someone with a mental/medical condition that

Another crime drama that I won't want to miss. Poppy does a wonderful job acting out her role as someone with a mental/medical condition that doesn't allow her to forget details.

…

Expand

This show is a great series to get into watching regularly. It is entertaining, and the relationship between the main Al Burns and Carrie

This show is a great series to get into watching regularly. It is entertaining, and the relationship between the main Al Burns and Carrie Wells is heartwarming. Despite centering around homicides (which provides for highly varied episodes) this show is light-hearted and fun.

…

Expand

decent characters, the story is a bit linear and like with some series you can't really "feel" the emotions of the main character. They had a

decent characters, the story is a bit linear and like with some series you can't really "feel" the emotions of the main character. They had a good concept with the medical, unforgettable thing.

…

Expand

Unforgettable? More like forgettable. This show is neither good nor bad, but there are many things that should be improved. The characters are

Unforgettable? More like forgettable. This show is neither good nor bad, but there are many things that should be improved. The characters are fine, but some are a bit forgettable. The writing could be better, I've fallen asleep during each episode from being too bored. A show like this isn't new, but it has the makings to be an entertaining program. I just hope they fix what's wrong before it loses all its viewers.

…

Expand

I like Poppy Montgomery so I gave this show a chance -- and I like seeing Dylan Walsh in a non creepy role again. But it's your oh so

I like Poppy Montgomery so I gave this show a chance -- and I like seeing Dylan Walsh in a non creepy role again. But it's your oh so standard police procedural in which Poppy comes to work in tank top and levis looking like she was on the way to the grocery store, but quickly solves baffling cases with her extraordinary (and of course secret) talent while all the other cops are muttering "why does *she* get to come to work dressed that way, and when the hell did she jump all normal channels for hiring? Fortunately Dylan is married to a really hot babe, so he gets to work with one and sleep with a different one every day, so life is good. Kind of a Lifetime series.

…

Expand

This show is Unforgettable but for all the wrong reasons. I can't even go into that much detail because not much was given. its a soulless

This show is Unforgettable but for all the wrong reasons. I can't even go into that much detail because not much was given. its a soulless piece of drivel that should never had made it onto TV. It's just bad.

…

Expand