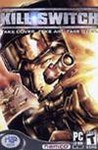 Summary:

In a world on the brink of global conflict, you find yourself on the frontlines of battle. Only this time, you?re not here to prevent a war?You?re here to start one. Kill.Switch is an innovative military shooter that emphasizes realistic cover techniques and awesome firepower for the

In a world on the brink of global conflict, you find yourself on the frontlines of battle. Only this time, you?re not here to prevent a war?You?re here to start one. Kill.Switch is an innovative military shooter that emphasizes realistic cover techniques and awesome firepower for the ultimate experience in combat gaming. Featuring the unique offensive cover system, Kill.Switch demands the use of modern combat tactics, forcing players to utilize surrounding environments and quickly adjust on-the-fly through each intense and challenging scenario. In Kill.Switch, you will take on the role of a highly skilled military operative with a dark agenda. Your initial missions will take you to global 'hotspots' such as the Middle East, the Caspian Sea region, and North Korea. As the story unfolds, more will be revealed about who you are, and exactly why you are undertaking the types of missions assigned to you. Remember: Cover is your only ally. The environment can be used to your advantage. Utilize the terrain. Take cover. Take aim. Take over. [Hip Games]

…

Expand

Developer:

Namco

Genre(s):

Modern

# of players:

1 Player

Cheats:

On GameFAQs

Rating:

T
May not be the most cutting edge looking shooter around, the PC version could have looked a lot nicer, but it does offer a challenge even if it's a little on the short side compared to other similar titles.

Thankfully the gameplay shines a light even if the rather conventional plotline and overall game suffer from a feeling of 'been there – seen that'.

Although clearly a budget game, it is packed to the gills with quality, features and, more importantly, style.

In the end, I can only express my disappointment, since kill.switch could have been one the best titles this year, if a little more effort would have been put into its development.

The mechanics for ducking and getting behind cover are well done, and the premise is a good one. Unfortunately, that's all kill.switch really has going for it.

An overpriced PC conversion of a gimmicky console game. The gimmick is its offensive fire system, which allows the heavily armed protagonist in this third-person shooter to fire around corners and use cover as a tactical asset.

Mission objectives are the standard "find this" and "hit switch" variety and almost feel like an afterthought to break up the mindless slaughter.
Though it has all the limitations of a console port (no quick saves, fuzzy textures etc.) it still ranks as one the most underrated games of

Though it has all the limitations of a console port (no quick saves, fuzzy textures etc.) it still ranks as one the most underrated games of the year. The action is fast and furious and the enemy AI is actually pretty good. They will use the environment to duck behind and they shoot around cover. The third person view is well implemented and the ability to hug walls and shoot around corners is revolutionary. I don't think I have ever seen this type of character control in a computer game before. Character animation, cutscenes and voice acting are excellent. Though the textures are somewhat dull the graphics overall are really quite nice and nothing struck me as ugly or out of place. The game ran smoothly on my system and should run fine on all low to mid range gaming pcs. Because it was released a few years ago it probably is only available on eBay. However, you should be able to pick it up for a song.

…

Expand

This game is just awesome for being so old, so underrated. I played this like 7 years ago on ps2, but I find it better on PC. There are some

This game is just awesome for being so old, so underrated. I played this like 7 years ago on ps2, but I find it better on PC. There are some small things I'd say are negative, but nothing big of a deal. The mechanics feel like Gears of War, or actually, Gears of War's mechanics feel like kill.switch. 8.5/10

…

Expand

Getting boring quite fast. No instant save or challeging enemies. A 6