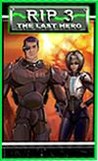 Summary:
RIP 3 game combines the dynamics of a hardcore shooter while preserving the elusive classic arcade appeal and never lets up on the intense action. Every level presents a new challenge, requiring you to not only prove your sharp-shooting, but to think and act tactically. The terrain and environments must be employed to survive waves of adversaries, but since all in-game objects are destructible, you must think fast. Your hero will travel all over the world from the African jungle to the Arctic snow, through secret labs and bunkers, in the streets and skyscrapers of Metropolis city and also go into deep space using a hijacked spaceship. Features 100 levels of arcade shooting action; 6 unique playable characters with varied and powerful skills to develop; A huge arsenal of destructive weaponry, each with 2 shooting modes; Capture and control military vehicles, including Tanks, Helicopters and Battle Turrets. Fully destructible battlefield - all the objects can be damaged and destroyed. Includes a space adventure minigame, where you pilot the Vostok-23 starship. 12 Huge, challenging bosses evoke classic arcade gameplay. 3 difficulty level settings to increase the intensity. Special bonuses and secrets are scattered throughout the game. Cooperative multiplayer for two players to battle against the enemy hordes. Multiplayer death-match for up to 6 players over LAN. [Meridian4]
| | |
| --- | --- |
| Rating: | T |
| Developer: | Elephant Games |
| Genre(s): | Other Shooters |
| Number of Players: | 1-6 Players |
| ESRB Descriptors: | Blood, Violence |
Designer/Producer/Programmer credits provided by
GameFAQs
.
If you contributed to this game and feel you should be credited, please read our
FAQ
.