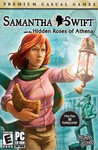 Summary:

On a quest to recover the Scepter of Zeus for The Museum of Secrets Lost, archeologist and adventurer Samantha Swift stumbles upon a much greater find. Unfortunately, she also runs into greedy treasure hunter Ravena Stryker. Use your keen sense of observation to uncover treasures around the

globe and unravel the mystery of the Roses of Athena in this hidden object adventure game. Be careful to guard the shield from falling into the wrong hands—Ravena and hr benefactor are always watching you! [MumboJumbo]

…

Expand

Overall, this is a pleasant and mostly simple game that is nevertheless entertaining and clever. The hunt-and-find part does get repetitive, as it is wont to do, but the mini-games and the storyline keep things interesting.
very nice game... pretty challenging because some of the items are hidden so well in plain sight. No bugs in the game, decent story. Long

enough to have a good story and plot, and short enough to not be tiresome. And possibly one of the hottest video game chicks in history :) Just my opinion

…

Expand

I liked the fact that some of the objects you have to find are tools to find other objects that are very well hidden.

Picked this game up for like 50 cents for some reason. Pretty good for what it is. To be honest, played through it slightly drunk. (Took

around 2 hours) Just clicking stuff and occasional easy puzzles.

Anyway, this is obviously meant for children and like I said. It's good for what it is. But I don't know, there's probably plenty of better games for kids for cheaper or the same price. (Regular price is ~10€ as far as I know)

…

Expand