Publisher:

Sega

Release Date:

Jul 24, 2007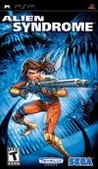 Summary:

In Alien Syndrome, players take control of the game's strong and enigmatic heroine – Earth Command Trooper Aileen Harding – and battle a variety of fearsome aliens and colossal bosses. Gamers choose from a wide selection of character specialties and skills as they progress through an

In Alien Syndrome, players take control of the game's strong and enigmatic heroine – Earth Command Trooper Aileen Harding – and battle a variety of fearsome aliens and colossal bosses. Gamers choose from a wide selection of character specialties and skills as they progress through an engrossing campaign, protected by many different types of armor and using a variety of melee and ranged weaponry. Players can improve their heroine's statistics and discover a huge number of powerful new abilities as they fight through infested spaceships and bizarre alien planets. Alien Syndrome features two fast-paced action-RPG modes – the dramatic and engaging single-player campaign, plus an infinitely replayable co-op multiplayer mode for up to four players. Derived from the classic SEGA arcade game, Alien Syndrome's new action-RPG gameplay makes it easy to pick up and play, while its depth and wealth of features and missions keeps it challenging for all gamers. Alien Syndrome features 20 different weapons including flamethrowers, quad-barreled lasers, nanobot swarms that dissolve enemies, and incendiary grenades that shoot fire geysers from the ground. Each weapon offers advantages and disadvantages, dependent upon how it is used and the specializations players have chosen to adopt. Alien Syndrome's fast-paced combat also allows for any number of combat strategies to defeat over 100 different alien enemies at one time. [Sega]

…

Expand

Developer:

Totally Games

Genre(s):

Action RPG

# of players:

1-4

Cheats:

On GameFAQs

Rating:

T
The developers clearly put a lot of love into this game, and in my opinion, it paid off. I spent 40 to 50 very enjoyable hours with Alien Syndrome, and am several hours in with a second character.

Between the PSP and Wii, the PSP is easily the superior. It offers the better controls and graphics, and just feels like a better game. It's a little harder to find three others to play with, so I guess that offsets it.

Alien Syndrome for the PSP stands out over its Wii counterpart, thanks to a less inept control scheme and a somewhat improved presentation. However, the game suffers from a host of issues.

PSP owners will be able to gloat that their version of the game looks better than the Wii edition.

Getting from one point on the map to another uses about six brain cells, leaving the rest to bitch about the boring weapons and enemies. [Nov 2007, p.83]

Never does Alien Syndrome become fun -- and unlike the Wii version, the PSP iteration doesn't even control well enough to become quietly engaging in its own methodical, repetitive way.
Only a few levels in, but there is an obvious unpolished feel. The graphics are mediocre with gameplay to match. The voiceovers are buggy and

Only a few levels in, but there is an obvious unpolished feel. The graphics are mediocre with gameplay to match. The voiceovers are buggy and cutout halfway through sentences. I'm hoping it improves soon, but so far it has the feel of Untold Legends, right down to the rotating character in the stats window.

…

Expand