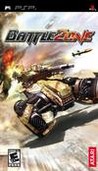 Summary:
Set in futuristic international military environments, BattleZone puts players in control of highly maneuverable hover tanks, challenging them in close combat scenarios against their rivals. BattleZone features fast and furious gameplay, photo-realistic environments, eight unique customizable team vehicles, an assortment of high-powered weapons and multiplayer battles. The four-player WiFi mode lets players go head to head, while unlockable weapons, vehicles and upgrades add even greater depth to the gameplay experience. In addition, extra game content will be available through the BattleZone web site, offering gamers news, leader boards and an exclusive online level builder tool that allows players to customize game maps. The extra content can then be downloaded to the players' PSP system through a local PC-USB connection. BattleZone provides players with six popular and well-known game modes, including Deathmatch, Capture the Flag, Team Deathmatch, Hotzone, Knockout, and Fox and Hound. For casual gamers, the single player mode offers an easy learning curve for pick-up and play gaming and a tournament progression to win upgrades and enhancements. [Atari]
| | |
| --- | --- |
| Rating: | E10+ |
| Developer: | Paradigm Entertainment |
| Genre(s): | Action |
| Number of Players: | 1-4 Players |
| ESRB Descriptors: | Violence |
| Number of Online Players: | 4 Players Online |
Designer/Producer/Programmer credits provided by
GameFAQs
.
If you contributed to this game and feel you should be credited, please read our
FAQ
.
| | |
| --- | --- |
| | #100 Most Discussed PSP Game of 2006 |