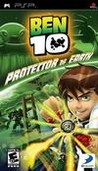 Summary:

In Ben 10: Protector of Earth, players take on the role of Cartoon Network's everyday-kid-turned-superhero, Ben Tennyson. Using the power of the Omnitrix which has embedded itself on Ben's wrist, players battle as one of five popular alien heroes from the show. By taking on these amazing

In Ben 10: Protector of Earth, players take on the role of Cartoon Network's everyday-kid-turned-superhero, Ben Tennyson. Using the power of the Omnitrix which has embedded itself on Ben's wrist, players battle as one of five popular alien heroes from the show. By taking on these amazing powers, players can save the world through the game's diverse challenges, puzzles and skirmishes. At first glance, 10-year-old Ben looks like your average, everyday kid, but upon closer inspection it's plain to see he's the world's youngest action hero stopping evildoers from Earth and space. With the help of the Omnitrix, Ben can transform into heroic alien forms with extraordinary powers. The evil Vilgax, with the help of Kevin 11 and the Forever Knights, has set in motion a plan to capture the Omnitrix and the world is in danger. [D3Publisher of America]

…

Expand
Developer:

High Voltage Software

Genre(s):

Action

,

Beat-'Em-Up

,

Beat-'Em-Up

,

2D

,

3D

Cheats:

On GameFAQs

Rating:

E10+
There's not enough variety to grasp your attention. [Dec 2007, p.83]

Ultimately, any truly dedicated Ben 10 fan is going to love grappling with Vilgax's evil forces and taking on infamous bosses from the TV show - conveniently ignoring the game's obvious shortcomings in favour of 'becoming' Ben and his portable armoury of alien heroes.

For its target audience, one of the strongest points of this game will be the fact that they can play with Ben, and the super heroes he can transform in. Those who only wish that can add a few extra points to the final rating. However, the remaining players will have to deal with the fact that the game is too limited, too easy, and too repetitive. [Feb 2008]

A polished tie-in for pre-teens but it's singularly lacking in ideas, imagination or depth.
This game is a true masterpiece. It is up there with amazing games such as Bad Rats and No Man's Sky!!!! Please buy it!!! (But seriously this

This game is a true masterpiece. It is up there with amazing games such as Bad Rats and No Man's Sky!!!! Please buy it!!! (But seriously this game was my favorite as a kids and I don't know why)

…

Expand

This is an awesome game which features plenty of action and a superb storyline. This game is enjoyable and fun for everyone of all ages. The

This is an awesome game which features plenty of action and a superb storyline. This game is enjoyable and fun for everyone of all ages. The only problem with this game is the bad ending.

…

Expand

I liked the music matching the action in my opinion. This game was truly awesome. 7.3/10. but there should have been 10 aliens because i

I liked the music matching the action in my opinion. This game was truly awesome. 7.3/10. but there should have been 10 aliens because i wanted to be diamondhead :(

…

Expand

Ben 10: Protector of Earth's gameplay is fun and engaging, but the shortness of the game is a negative. The combat was good, but incredibly

Ben 10: Protector of Earth's gameplay is fun and engaging, but the shortness of the game is a negative. The combat was good, but incredibly easy, and the boss fights are kind of disappointing. This game is OK, not great. What you except from a movie based game? 63 out of 100

…

Expand