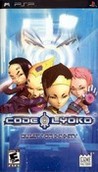 Summary:
The Final Quest has just begun...Discover and experience a new story linked to the events from the 4th season X.A.N.A has succeeded in fully annihilating Lyoko, but with the genius creativity of Jeremy and Aelita, our heroes manage to reprogram Sector 5. The only way to track down X.A.N.A is to explore the digital sea. For this, Jeremy creates new costumes, weapons and vehicles that help them navigate into the digital sea. By destroying the Replica worlds, the young heroes will deliver Lyoko and save William from X.A.N.A. Play and interact with all the Code Lyoko Heroes – each with unique skills. Powers and upgrades. 6 environments to explore including the Digital Sea and the exclusive Volcano Territory! Lots of cool collectibles and secret areas to discover. Fight monsters, new enemies and 5 bosses exclusively designed for this game. [The Game Factory]
| | |
| --- | --- |
| Rating: | E10+ |
| Official Site: | http://www.codelyoko.com |
| Developer: | Neko Entertainment |
| Genre(s): | Action |
| Number of Players: | 1 Player |
| ESRB Descriptors: | Mild Fantasy Violence |
Designer/Producer/Programmer credits provided by
GameFAQs
.
If you contributed to this game and feel you should be credited, please read our
FAQ
.