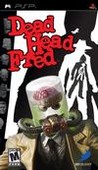 Summary:

Dead Head Fred draws players into an original alternative universe as they embark on a quest for vengeance to solve their own murder by using the decapitated heads of enemies to battle through environments designed to showcase each head's unique abilities. In Dead Head Fred, players take on

Dead Head Fred draws players into an original alternative universe as they embark on a quest for vengeance to solve their own murder by using the decapitated heads of enemies to battle through environments designed to showcase each head's unique abilities. In Dead Head Fred, players take on the persona of private detective Fred Neuman. Savagely murdered and then resurrected in a bizarre scientific experiment, Fred is without his memory or his head! The game immerses players in the action with the most revolutionary camera to date on a handheld device as they collect, upgrade and switch heads on the fly to strategically fight malformed mutants, ghoulish gangsters, and maniacal mob bosses in a unique and compelling story of revenge and redemption. [D3Publisher of America]

…

Expand

Developer:

Vicious Cycle

Genre(s):

Horror

# of players:

1-2

Cheats:

On GameFAQs

Rating:

M
You can't put a price on imagination, and this game has that in spades.

There's more to this game then meets the eye and, just like an onion, it has many layers. Peel one back and as well as making you cry with laughter, it'll keep you entertained for hours on end.

Dead Head Fred is genuinely funny, well written and simply fun to play.

One of the most entertaining games to hit the PSP this year.

Dead Head Fred is an interesting, immersive and innovative game that makes good use of the PlayStation Portable's capabilities. A few gameplay issues and the eventual receptiveness drag the title down a notch or two though.
So this is what a PSP game can be when it's not trying to be a PS2 game. Hats off to the guys who made this; I can see why they took so

So this is what a PSP game can be when it's not trying to be a PS2 game. Hats off to the guys who made this; I can see why they took so long to make it. The games looks amazing, even better in some ways than Metal Gear Solid: Portable Ops (which is really saying something) and has all new (not to mention fun) gameplay mechanics and hilarious dialogue. Like, really hilarious. Laugh out loud type stuff. Most of all, the game is a bargain, selling new for roughly 30 dollars-- do yourself a favour and at least rent the game. Chances are you'll be won over if not by the charm than the great story and gameplay.

…

Expand

Finally something worth playing on the PSP. I picked this up yesterday and it's probably one of the funniest games I've ever

Finally something worth playing on the PSP. I picked this up yesterday and it's probably one of the funniest games I've ever played. Dr. Cox rocks!

…

Expand

This game was completely awesome, with fantastic voice acting, fun combat, beautiful graphics, and over 30 hours of gameplay time (for me at

This game was completely awesome, with fantastic voice acting, fun combat, beautiful graphics, and over 30 hours of gameplay time (for me at least) with tons of minigames and an awesome story. This game is so underrated, i only got it a while ago on psn (for my ps vita) for 4 dollars, and it was incredibly good for such a cheap price, it was unbelievable.

You owe it to yourself to buy this game.

…

Expand

The humor is terrific. Which is like 55% of the game. The other part of the game is ok. Decent gameplay, interesting features and unique concept.

The presentation oozes style and the gameplay mechanics are well realized and pretty unique. Beyond the core game itself however, the side

The presentation oozes style and the gameplay mechanics are well realized and pretty unique. Beyond the core game itself however, the side missions and minigames feel half baked and drag down the fun too often. Most of the quests boil down to 'hey some guy stole my watch and he's hiding in an alley clear across town, can you go kill him and bring it back to me?' And there are tons of these pointless fetch and delivery quests. If you're going to play it I would suggest ignoring most sidequests unless you need the cash or items.

…

Expand

on the upside the game is a long game with minigames and side missions, john C mclinley ( Dr Turk from scrubs) plays fred and does good, on

on the upside the game is a long game with minigames and side missions, john C mclinley ( Dr Turk from scrubs) plays fred and does good, on the downside the graphics suck, other then john voiceacting sucks, sidemissions are worthless, money is almost worthless, camera sucks, story is stupid, no replay value, no online play

…

Expand

The humour is the main selling point. I was really looking forward to this, and the cutscenes make me laugh- but the gameplay is extremely

The humour is the main selling point. I was really looking forward to this, and the cutscenes make me laugh- but the gameplay is extremely weak and shallow. For God's sake, try to RENT this game before you buy, please!

…

Expand