Publisher:

Tecmo

Release Date:

Mar 30, 2010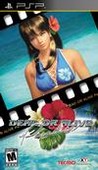 Summary:

Welcome to paradise! Hang out with the sexy ladies of Dead or Alive and have some fun under the sun. Picture yourself relaxing on the shores of New Zack Island where you get to mingle, flirt, play, take snapshots, and challenge the girls in various mini-games during a two-week vacation!
Developer:

Tecmo, Team Ninja

Genre(s):

Action

Cheats:

On GameFAQs

Rating:

M
Fun, deceptively deep, but the 'globe' physics fail to distract from a lack of variation.

If you're tempted, we advise you take a cold shower and reconsider.

We accept there's a place for this sort of thing, but it fails on the standard of its minigames. [June 2010, p.78]

A complete disappointment on all fronts and shouldn't be played by anyone.
a game that is based on your love for the DOA girls mixed with how much you like volleyball . i use to play in tourneys so i love me my volley

ball . i dont care much for the dress up part with the girls but the volley ball is pretty solid although still has the same camera issue's it would be nice if the camera was adjustable to differnt views and they had some tourney style play . this is basically a direct port of DOAX2 for the 360 with things taken out instead of added minus they did add one new girl . there are no new swim suites from what ive seen so if your into collecting all that and where hoping for new stuff you can forget it unlessed i missed them. the graphics for the PSP are actaully pretty good minus the girls do have alittle jaggy look . its only 29.99 new but since the reviews wernt good i waited to get it cheaper and have already gotten a copy of it on ebay new for $15 . which after playing it is about the right price. they removed the water slide and jet ski racing and online play. which didnt care much for the water slide but the jet ski's were kinda fun and i guess no one played the first one online any way because the servers sucked so bad. so if you are a fan of DOAX 1 amd 2 you will probubly enjoy this as long as you are not expecting any thing new.

…

Expand

Well probably soon Tecmo could possibly transfer the XBOX DOA Xtreme franchise 1 and 2 transported to the PS3 as well. Well I agree with the c

ritics a little bit, sometime it wasn't meant to feel the same way as what the fans want in a Dead or Alive game. I don't have a Playstation Vita yet, but hopefully I'll play Paradise. I still love the DOA girls, all they wanna do is have some fun.

…

Expand

Yeah, that's right, I actually played this game, what can I say curiosity got the better of me. I'm surprised to say there's actually fun to b

e had with it, and not just the creepy kind. Aside from the obvious pervert appeal this is actually a volleyball game, and a pretty dang good one at that! All you really do in this game is pick a girl in a skimpy bikini and go on a two week vacation, where you can play volleyball, mini-games, make friends, and collect swimsuits. As far as the mini-games go there's pool hopping which takes some getting used to and once you get the hang of it you'll probably be done with it, gambling in the hotel's casino which is a lot of fun since you can play blackjack, poker, and slots. There's also some other lackluster unlockable mini-games, and a mode where all you do is take pictures of your girl, which isn't the least bit sexy, but actually rather humorous do to the bouncing boobs that you've no doubt have heard this game has look like wiggling creatures with minds of their own. But those modes aren't worth mentioning and the real fun you'll have with the game outside of the casino is the volleyball which is really well done, a lot of fun, and surprisingly deep. Volleyball and gambling are where this game succeeds that's for sure, in order to play volleyball with the other girls is to make friends with them by giving them gifts they'll like with the right color wrapping paper and at the right time. So in the end do I recommend Dead or Alive Paradise? If your a fan of volleyball and gambling yes. It's just a shame that the rest of the game, outside of volleyball and the casino, is either mediocre or just plain bad.

…

Expand

Not many people can attest to liking the Extreme Beach Volleyball franchise from Team Ninja, a reason behind this is the shallow mechanics and

lack of real motivation for an everyday player to coexist with the game's concept and reason for replay value. If you are a fan of the series like myself you play the game for three reasons: the graphics, the characters and the collecting. If you're not a fan of the Dead or Alive girls, you're done right there; no need for the frivolous boob mechanics or capricious collecting. If you are a fan of these girls, I urge you to look away from ever making the trip to Paradise.

This game is a big mess of concepts and old ideas. The game plays a lot like the first volleyball game, but takes the overall premise from the second. The same exact story is completely ripped from the second game in which Zack rebuilds his sunken island and tricks the girls into coming to it yet again. This is extremely disappointing as the CG openings for this series have had incredibly interesting setups, but there is nothing new to this Paradise.

Like in the first game, there is only one REAL sport you can play. Volleyball. And with that said, the volleyball isn't terrible. The mechanics are rather sound actually. There are no special mechanics needed, and the mediocrity of it may kill you, but the game is challenging and earns you a lot of money to spend on those succulent bikinis. Bump, set, spike is the name of the game, and if you're down with those three easy steps the volleyball could turn out to be as relaxing as it is imperative to enjoy the assets of the island. There are some mini games thrown in from the second extreme game that are just there for novelty sake such as the "butt battle" and the infamous "pool-hopping" but they don't offer a lot, and they aren't much fun.

Paradise does a lot wrong, but it looks good. The white beaches and blue water aren't as vibrant as they were on the 360, but for what we are working with we have a good looking game. The girls look great as always. On the portable device they look a little jagged and rough around the edges, but at the same time they look juicy and colorful. There are many bikinis to put on the girls and it really gives the look of the game some extra depth and versatility. The bikinis look great and it's fun to dress the girls up and see how they look in that two piece in comparison to that mini-skirt. Another big selling point for the series has always been the rest sequences which basically means gyrating, stretching ladies for thirty seconds. You can take pictures of the girls as they strut their stuff on the island and save them to a photo album. Sadly, the pictures come out bad most of the time and sometimes they even glitch up and frames in the background such as water continue to run whilst the body is frozen in position.

There aren't a whole lot of reasons to play this game as it's basically a port of the first two games with compressed activities and visuals. They add Rio, a card dealer from some Blackjack game but she doesn't really fit in with the DOA girls and she's more fit for a full on Japanese animation game. At the end of the day, Dead or Alive: Paradise is another entry to the Extreme franchise, but it's not what the fans want. It does nothing to improve on an already overused formula, and it lacks in everything it tries to do. It may feel like a slap to the fans of the franchise. And hopefully it's not a precursor to Dead or Alive 's pernicious future.

…

Collapse