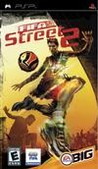 Summary:

Prove you have what it takes in four on four gameplay action which captures the passion and flair of real street soccer in this fresh arcade experience. Humiliate your opponents with the new trick stick beat system, over the top juggling moves and all-new gamebreakers that allow you to win

a game like never before. Beat the best in the world by traveling to new International locations ranging from the famous Westway Leisure Centre in London to the beautiful beachside of Brazil. Featuring all new authentic tricks, FIFA Street 2 provides new gameplay experiences by making over the top moves and skills even bigger in this fast paced sequel. Take to the streets, unleash your tricks, and humble your rivals with or without the ball. [Electronic Arts]

…

Expand

Developer:

EA Canada

Genre(s):

Arcade

# of players:

1 Player

Cheats:

On GameFAQs

Rating:

E
If you're looking for a new football game on PSP, then Street is the friendliest option. [Mar 2006, p.100]

The production values are slick and well done, but the game itself could've used a bit more tweaking to make it more enjoyable than it wound up being.

FIFA Street 2 is like real football because of the spherical bits of leather the players kick around - but that's where the similarities end.

Its charmless and sterile graphics only make the dodgy gameplay harder to swallow and give less reason for me to continue.

The PSP version of FIFA Street 2 plays about as well as the lackluster PS2 version of the original FIFA Street on which it's based.

There's ostensibly a big game in here, but it gets old quick, so your best bet would be to borrow FIFA Street 2 from a friend rather than drop any dough on it.
I think this game is what it is mean't to stand up to.I think it is very good,although there are some down fall's for example, the

camera views are not very good and it is harder to play on the Sony Playstation Portable. Overall the game is very good and you can do alot more than you can do on Fifa Street 1. You can costonize the players alot more.

…

Expand

Awesome game for the PSP, runs smooth, plays awesome - its fun to pick up and play has Rule The Street. Looks awesome too!

overall - good game if you are fan of ea's big series, or soccer fan. this game controls very much like other fifa soccer titles. offers

good player customization. there are too many glitches - balls get stuck in corners of field (almost as if you were playing on a cheap foosball table. also, in many situations, goalie will just watch as ball slowly rolls by. there are only 2 mini-games, which are mostly worthless other than being able to unlock 2 new venues. "rule the street" mode progresses nicely, however, it is far too easy, and there is really no payoff upon completion.

…

Expand

This is the worst soccer game i have plyed, there is is no real control over the players or what they can do,its got good grafics but thats it.