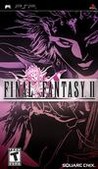 Summary:

In FINAL FANTASY II, a malevolent emperor has called upon monsters from a demonic realm to take over the world, ending what seemed to be an eternal period of peace. Thousands of lives succumb to their attacks, leaving many children orphaned. From the destruction rise four young survivors who

will take it upon themselves to stop the merciless ruler and avenge the death of their parents. This all-new anniversary edition contain the best treatment of the classic RPG and features all-new character art, updated graphics, new dungeons, full 16:9 widescreen presentation and an updated camera view that gives players a new vantage point. [Square Enix]

…

Expand
Developer:

TOSE

Genre(s):

Role-Playing

# of players:

1 Player

Cheats:

On GameFAQs

Rating:

T
A wonderful little game that is a must buy for any Final Fantasy fanatic. The revamped graphics, sounds, story, and additional content make the game a valuable addition to your PSP.

Final Fantasy II is a game that sports a refreshed look and feel, but a noticeable lack of added features and content puts a damper on this celebration.

Final Fantasy 2 Anniversary is a grand game to pick up if you're intent on playing it in an updated format made solely for the PSP, but not a good enough value to warrant purchasing it on curiosity or the nostalgic magnetism that draws gamers to remakes in the first place.
Final Fantasy 2 Dawn of Souls is truly worth the experience. If you are a huge fan of the Final Fantasy series, this game should be played by

all fans, if you are a RPG fan in general but not a huge Final Fantasy fan, take this game with caution as it is actually best suited for those who have a lot of time and patience to grind.

…

Expand

Here we go again with another remake of a remake, with slightly better rendering this time. This game is something of a rip off to buy at the

shop, telling us that Square Enix is getting greedy. A better idea would be to sell a 2-disc set along with the original game, or even better put both games on one disc! Beside all this if you get over the simplicity of the game it is a great one for the road with minimal loding time

…

Expand

This is another case of a definitive version of a Final Fantasy classic game, much like the PSP rerelease of FF1 (and FF4, which came out rece

ntly). The game looks great and improves upon the original version in every way needed. This Final Fantasy is also interesting in that the leveling up is completely unique and different from what is standard in RPGs and Final Fantasys alike. Instead of gaining overall experience points and gaining a level after a specific amount has been obtained, the player improves based on what they are using (ie: your hit points increase if you get hit, your strength goes up if you attack, etc). This can be frustrating, especially when you are given a new 4th party member repeatedly who is vastly behind the curve. This is a unique title that is worth a look but might not be for everyone. Thankfully, the difficulty has been scaled back slightly to make things both more accessible and more fun.

…

Expand

My first impressions of this game were that the story actually existed this time, and the experience system was changed, as in it was gone. Th

ere isn't XP this time, it's a weirder system that works, but you have to get used to it. A lot of reviewers score this game lower than other RPGs because of it, but I don't think it's that big of an issue. In contrast to the first game, Final Fantasy II is a lot easier. I beat the end boss on my first try, so obviously I didn't have much grinding to do and that was refreshing. I can't say that everyone's going to enjoy FFII, but I think it's worth a shot if you want to take a look at the evolution of the RPG.

…

Expand