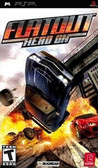 Developer:

Bugbear

Genre(s):

Other

# of players:

1-8

Cheats:

On GameFAQs

Rating:

T
A stupendous game you really must own, even if you don't like cars. [Apr 2008, p.107]

It's easily one of the better PSP racers out there, the potent mix of high-speed racing and spectacular crashes setting it apart from the more clean cut thrills found in WipeOut and Ridge Racer.

It's hard not to love a title that piles on all the game modes (including multiplayer) and makes the racing element actually fun.

FlatOut is fun and different enough that it manages to stand out.

A fun, cheeky, crash-tastic ride to the finish line.

FlatOut: Head On basically takes FlatOut 2 and tweaks a few things, resulting in a solid game, with plenty of content. The racing isn't quite as good this time around, but the Carnage mode is pretty decent.

What has four wheels, bad music, and lackluster graphics? Flatout: Head On! Save your money for one of the console version where this game can be better appreciated.
this game is much better than burnout, I really liked. it is not a revolution in racing games but it is extremely fun and that's the most

this game is much better than burnout, I really liked. it is not a revolution in racing games but it is extremely fun and that's the most important thing for me. I do not give it the 10 because at least my umd does not have on line mode. racing game for psp

…

Collapse

The game could have been a bit better. For me the killer point is frame rate. it is sluggish and jumps up and down. Damaging a car is not as

The game could have been a bit better. For me the killer point is frame rate. it is sluggish and jumps up and down. Damaging a car is not as ps2 or pc versions. It is simpified here but still good.

…

Expand